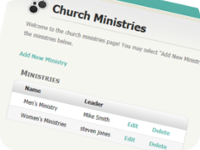 San Diego, CA (PRWEB) April 16, 2013
AgapeWORKS has announced its new complete Church Management Software, built on the idea of putting the management of the church back into their own hands. AgapeWORKS' church software allows staff members to oversee every aspect of running the church, both in the day-to-day and long term. The Essentials package offers a professional, contribution management, public website, project tracking tools, and church membership software – all at no cost, allowing even single-pastor churches to operate like a mega-church.
Formed in 2004 to enable small churches to create and maintain an effective web presence without a full-time IT staff, AgapeWORKS has since expanded to offer growing churches the ability to manage all of the essentials from one place. This package is free to use, and contains everything churches need to get things going, including: Attendance tracking & growth reporting, Online giving, Contributions Management, Church member directory, Service Project Management, Public website & web content management, Church profile, Intuitive, Point-and-Click Online Dashboard.
The purpose of AgapeWORKS Essentials is to provide smaller churches with the tools they need to serve their members effectively, make their resources go the farthest, and, above all, serve God as well as they possibly can. This Church Management System allows pastors and staff to focus on what really matters by leveraging its simplicity, free use and comprehensive management of church needs.
Through a dedication to simple usability and affordable services, AgapeWORKS is paving the way for churches to serve Jesus Christ to the fullest in the modern age.