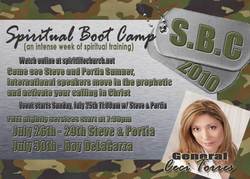 You'll be instigated to be a Hell Hater, provoked to be a Soul Snatcher and inspired to be a God Chaser
Phoenix, AZ (PRWEB) July 23, 2010
Spirit Life Church in partnership with Hope4Teens will be hosting their Spiritual Boot Camp God Encounter Services.
"Spiritual Boot Camp" is a week-long intense time of powerful preaching, inspirational worship, life-changing testimonies and most of all transforming encounters with God. This event is designed for the whole family.
The first service will be kicked off on Sunday, July 25th at 11am with Steve & Portia Sumner, Youth Pastors from Shiloh Church, Oakland CA. They will continue the revival on Monday night, July 26th, through Thursday, July 29th, 2010 at 7:30pm. Ventriloquist and comedian, Roy DelaGarza will bring it home on the very last night during the Friday Night Live service, July 30th, 2010. Immediately following Friday Night Live there will be AfterGlow, which promises to be a festive time for attendees with food, beverages, games and lots of fun.
For those wanting to join the army of compassion during the daytime, participants will receive training in discipleship and outreach. They will serve in soup kitchens, pray for the disabled and evangelize the lost in different locations throughout Phoenix. Participants will be given hands-on experience which will equip and commission them to serve those that are hurting and in need of hope.
Spirit Life Church sees the youth of today progressively getting worse. These teens are crying out for help with no answers and parents are feeling helpless and in need of parenting skills. There was a time in America where it would have seemed abnormal to hear of a young person being sexually active or doing drugs. Sadly enough, this has become the norm.
Spiritual Boot Camp is sounding the alarm and crying out to those who will heed the call to reach this generation, and we are asking you to partner with Spiritual Boot Camp in allowing God to bring passion, purity, and purpose back into the lives of youth and their families and experience a powerful touch of God's mighty power. Spirit Life Church has seen the lost and hopeless from all different types of backgrounds; some addicted to drugs, some in gangs, and some raised in church all their lives be transformed by the power of God.
This events is being sponsored by TheFathersHeartFoundation.org.
For More Information:
http://www.spiritualbootcamp.org - Watch Services Online Free.
Groups that will be represented at Spiritual Boot Camp:
WorkInternship.com
TeenTransport.org
Hope4Teens.org
http://www.ElijahGeneration org
AccountabilityHomes.com
LifeCoach1000.com
CrisisInterventionNow.com
HelpForInternetAddictions.com
LifeSpace.cc
2Chance.org
PurposeDrivenCamp.com
###