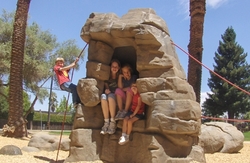 Rocks and Ropes is an excellent idea for non-traditional playground equipment that provides incentives for children to explore their natural world
Bluffton, SC (PRWEB) October 31, 2010
Churchich Recreation and Design presents their newest line of playground equipment from UPC Parks. Rocks and Ropes is a unique set of playground equipment designed to encourage children to interact with the natural world. Rather than a traditional playground set, Rocks and Ropes equipment provides realistic natural elements of "rocks" as climbing structures.
The structures are completely customizable, with flexibility in terms of space and budget. Rocks and Ropes Playgrounds are comprised of "Monoliths" or large, boulder-like structures placed singularly or in congruence with other monoliths. The structures have ledges and protrusions for climbing and playing across. "Rocks" can also be linked to each other by rope bridges or placed next to "roamers", log-like structures, for extended balance and play. The Monoliths bolt into pre-poured concrete, while Roamers can be placed at any selection point. Installation is a pick-and-place process, with little to no assembly. According to Churchich Recreation and Design President, Sue Churchich, "Rocks and Ropes is an excellent idea for non-traditional playground equipment that provides incentives for children to explore their natural world."
Churchich Recreation is dedicated to every project from the selection of equipment, including the safety surfacing, to the final installation. As a family-owned business, Churchich provides seamless and turnkey services from start to finish of all projects. After careful consideration of the customer's needs, Churchich will take delivery of the order, store the equipment until your site is ready and unload the truck for installation when the site is ready.
Churchich Recreation is a family-owned business in Bluffton, South Carolina. Churchich provides equipment and installation of outdoor and playground equipment, and has consistently represented the same brands for years. We have experience in providing complete support before, during and after the sale and installation and are committed to providing quality products and service. For more information, please visit http://www.churchichrecreation.com
Press Contact
Chelsie Baugh, Associate: Public Relations
BraveMatters: Branding + Engagement + Marketing, http://www.bravematters.com
# # #