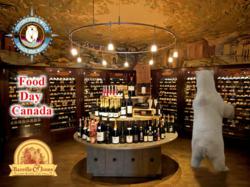 An amazing menu with stunning Canadian wines.
Churchill, Manitoba (PRWEB) July 26, 2011
Would you like red or white wine with your polar bears? We'll try both, thank you. And we'll do it on Food Day Canada in the pristine Canadian arctic wilderness at Churchill Wild's remote polar bear lodge on the Hudson Bay coast.
Churchill Wild, which owns and operates Canada's premier polar bear lodges for viewing polar bears in their natural environment, has partnered with Banville & Jones Wine Co. in Winnipeg to celebrate Food Day Canada 2011 on July 30 with a wine-pairing event at their remote Seal River Heritage Lodge in Northern Manitoba, Canada.
"We're excited about partnering with Banville & Jones for Food Day Canada this year," said Rick Kemp, Director of Marketing & Communications for Churchill Wild. "These are unique and exceptional Canadian wines. Food Day Canada was a hit with guests last year on the Birds, Bears & Belugas adventure and we expect it to be even better this year with Banville & Jones and Jeanne's new gourmet kitchen."
Luxurious by arctic standards, Seal River Heritage Lodge features a 1400 square foot dining room, private bedrooms with ensuite washrooms, Internet connectivity and all the comforts of home. The new dining room, complete with huge picture windows overlooking Hudson Bay, was built last year to enhance polar bear viewing, and this spring Churchill Wild hauled materials over the sea ice through polar bear country to build a new gourmet kitchen.
While getting up close and personal with polar bears is always the highlight of the polar bear watching adventures, compliments about the delicious food served at the Lodge always seem to muscle out equal space in the guest book comments.
"It's an honor to partner with Churchill Wild for Food Day Canada," said Jill Kwiatkoski, Assistant Buyer/Manager at Banville & Jones Wine Co. "They are using beautiful, clean, fresh food that pairs perfectly with the Canadian-themed wines. The wines for the event are produced by smaller Artisan style wine-producers from B.C. and Ontario, and are very eco-friendly, which fits perfectly with Churchill Wild's philosophy. It's an amazing menu with stunning Canadian wines."
Churchill Wild participated in Food Day Canada last year and is thrilled to be back for a second consecutive year. Five different red and white wines from Banville & Jones will be served with a five-course meal prepared from the award-winning Canadian cookbook series Blueberries and Polar Bears.
The event will again take place during Churchill Wild's Bird's, Bears and Belugas summer polar bear viewing adventure, which features snorkeling with beluga whales as weather permits, bird watching and daily treks on the tundra exploring the flora, fauna and ancient history of the remote coastal area. And unlike most traditional polar bear tours, you can actually walk with polar bears (in groups with Guides) on the daily hikes, if they happen to be in the neighborhood that day – which makes for the ultimate polar bear viewing experience - and fond memories that will last a lifetime.
About Churchill Wild:
Churchill Wild offers the only fly-in eco-lodge polar bear tours in the world. Their season runs from mid-July to mid-November with limited space available for adventure packages. They operate Seal River Heritage Lodge and Dymond Lake Eco-lodge on the west coast of Hudson Bay (north of Churchill), and Nanuk Polar Bear Lodge, which is located approximately 30 kilometers east of York Factory on the southern tip of Wapusk National Park. Additional information and booking details may be found on their Web site at http://www.ChurchillWild.com or by calling (204) 377-5090. You can also keep up with Lodge happenings through their Newsletter or even better, by socializing with Churchill Wild on Facebook.
###