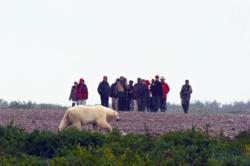 The polar bears live here. We are guests in their home.
Churchill, MB (PRWEB) November 18, 2011
Churchill Wild, the world's only provider of luxury fly-in eco-lodge polar bear tours, enhanced their polar bear trips this year with the inclusion of Polar Bear Adoption Kits from the World Wildlife Fund (WWF).
"They're unique gifts for our guests and they allow us to give back to the polar bears and the arctic environment through the World Wildlife Fund," said Rick Kemp, Director of Marketing and Communications at Churchill Wild.
"The WWF has some major initiatives in place with regards to preserving the arctic environment and making sure endangered polar bears and other arctic species receive the attention and exposure they need to survive well into the future. Churchill Wild prides itself on its environmental stewardship and guests at our eco-lodges both expect and demand it, so it was a natural fit."
The Polar Bear Adoption Kits include a Personalized Adoption Certificate, a High-Quality Polar Bear Plush and Collector Card, a Recycled Gift Bag and details on the work the polar bear adoption will help support at the World Wildlife Fund.
The World Wildlife Fund has been working in the arctic since 1992, promoting international governance solutions, creating a science-based conservation blueprint, and partnering with responsible industry leaders to demonstrate how they can benefit local communities while at the same time respecting and reinforcing the integrity of arctic ecosystems already under siege from climatic change.
With regards to polar bears, the World Wildlife Fund is working with organizations and individuals to reduce greenhouse gas emissions; promoting sustainable consumptive and non-consumptive use of polar bears; protecting critical habitats; working to remove direct threats from industrial activity; and funding field research by the world's leading polar bear experts.
"We have tremendous respect for the arctic environment, the wildlife, and especially polar bears," said Churchill Wild's Mike Reimer, who has lived and worked in the pristine arctic wilderness for most of his life. "We do everything we can at our eco-lodges to minimize our environmental footprint and we are committed to continual improvement."
In keeping with the traditional meaning of "ecotourism" Churchill Wild has developed numerous systems and procedures to: minimize their impact on the environment; create environmental awareness; provide direct financial benefits for conservation and local people; respect the local culture and empower its people.
Churchill Wild prides itself on its commitment to environmental sustainability, responsibility and arctic stewardship, which includes utilizing: solar energy to reduce generator fuel consumption by 75%; local foods, workers, vendors and businesses whenever possible; strict recycling and composting policies; bio-degradable cleaning products; a grey-water recycling system; local lumber; recycled building materials and more.
In sharp contrast to traditional polar bear tours, Churchill Wild limits the use of motorized vehicles at their polar bear lodges. The vehicles that are used are small, economical and utilize four-stroke fuel-efficient engines. Additionally, use of these vehicles is restricted to tidal flats and beach ridges, which repair themselves daily. Vegetated tundra is off-limits to the vehicles.
While polar bears can often be viewed from inside the lodges, most of the wildlife and polar bear viewing, birding and exploring of ancient flora and fauna, is accomplished on low-impact hikes along beach ridges or over the few established trails near the lodges - which is what most eco-conscious Churchill Wild visitors want from their polar bear watching experience.
Polar bears and other wildlife are allowed to approach on their own terms. They are not pursued or pressured. You generally don't have to go walk too far however, before finding yourself up close and personal with the world's largest land carnivore.
"The polar bears live here," said Reimer. "We are the guests in their home."
About Churchill Wild
Churchill Wild is the world's only provider of fly-in eco-lodge polar bear tours that offer on-the-ground access to polar bears. Their season runs from mid-July to mid-November with limited space available for adventure packages. Churchill Wild operates Seal River Heritage Lodge and Dymond Lake Eco-lodge on the west coast of Hudson Bay (north of Churchill), and Nanuk Polar Bear Lodge, which is located approximately 30 kilometers east of York Factory on the southern tip of Wapusk National Park. Additional information and booking details may be found on their Web site at http://www.ChurchillWild.com or by calling (204) 377-5090. You can also keep up with Lodge happenings through their Polar Bear Blog, Newsletter or even better, by socializing with Churchill Wild on Facebook.
###