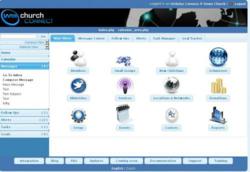 ...we created a database that can be fully customized.
San Diego, CA (PRWEB) November 16, 2011
There is no doubt that technology has completely changed the way business is conducted. Software has improved how businesses operate on many different levels. Software makes information easily accessible and has proved to increase the profitability and the efficiency of an organization throughout every department. Many churches are following suit and uncovering the remarkable advantages that technology can offer their organization.
Web Church Connect (WCC), an organization dedicated to helping churches with their technology and marketing needs, has launched a groundbreaking church management software that covers the needs of any size church and boasts offering the most customizable church database anywhere.
An effective church management database will not only save a church a lot of time, it's going to save an organization a lot of money. For a smaller church, administrative duties normally fall on a church leader's shoulders; an efficient church database will save a pastor a lot of time, allowing him or her to focus on their upcoming message on Sunday, rather than worrying about administrative or operational duties.
Church management software becomes a principal player within larger organizations as well. If one piece of software can do the job of three administrative personnel, both time and money are saved. With a larger organization comes more small groups and ministries to manage. A reliable and customizable database is essential for keeping up-to-date with members, donations and campaigns.
"Many times when you are dealing with any type of database or software there always seems to be something more that you wish it could do," Mark Peterson, Marketing Director of Web Church Connect said. "This is the very reason why we created a database that can be fully customized."
Web Church Connect's church management software covers practically every database and unified communication need that a large or small church may require. Some of WCC's many key features are:

Small Groups: Set up and manage small fellowship groups
Check-in Kiosk: Check in your kids and volunteers
Attendance Tracking: Track attendance for any meeting or group
Donations management: Enter and track giving, create pledges, run reports
Visitor Retention: Track visitors, schedule follow-ups
Course Management: Set up and manage all church courses
Web Church Connect is currently offering a 30-day free trial for all churches as well as a live demo that can be scheduled by calling (877) 346-8120.
About Web Church Connect:
Web Church Connect (WCC) is an organization committed to helping churches all their technology and marketing needs. WCC also offers a fully customizable church management software to churches worldwide. For more information, call toll free (877) 346-8120 or visit them online at http://www.webchurchconnect.com.
###