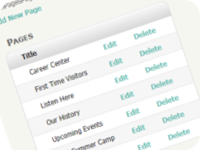 Vista, CA (PRWEB) May 14, 2013
AgapeWORKS is excited to announce the latest feature of its church management software: the Service Project Manager. Designed to enable churches to carry out projects in their communities efficiently, the Service Project Manager provides a single interface from which church staff can organize volunteers, manage available resources, and ensure that every detail of the project is on track. Too often churches are thwarted from helping their communities in the ways they would truly like to simply for lack of an effective organizational tool, but with the Service Project Manager (available at no cost in AgapeWORKS' free-to-use Essentials package) even small churches can tackle big projects.
Formed in 2004 to enable small churches to create and maintain an effective web presence without a full-time IT staff, AgapeWORKS has since expanded to offer growing churches the ability to manage all of the essentials from one place.
The process is simple. All churches receive a free online profile page after signing up with AgapeWORKS. Members of the congregation who have registered on the church's page will be able to view any future projects the church is planning, and to volunteer their time, skills or resources to help make the project a reality. The Service Project Manager allows church staff to see who's willing to help, what resources are available, and what needs are still yet to be filled.
The Service Project Management feature is just the latest of AgapeWORKS' church management tools designed to take the stress out of managing a growing church. Its simplicity and ease of use allow pastors and church staff to focus on what really matters: sharing the love of Christ.