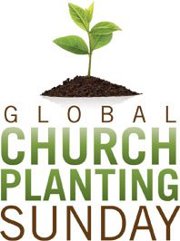 Vista, CA (PRWEB) February 07, 2012
Over 1,500 churches around the world will celebrate Global Church Planting Sunday on February 12, 2012. This unique church movement, coordinated by DCPI, will bring awareness, information and inspiration to those who attend one of the services. Churches in the USA, Canada, Latin America, Europe, Asia, Australia and Africa will be focusing on church planting as the most effective way to reach the world for Christ.
According to Dr. Paul Eshleman, the founder of The Jesus Film, "It is the biblical pattern that God uses local churches to help believers grow to maturity in Christ. Today, however, there are at least two million villages and neighborhoods throughout the world where there is no church. We are living in a time of great spiritual harvest. I believe that hundreds of millions of people will come into the Kingdom in the next decade. Global Church Planting Sunday will help us focus our resources toward this critical element of making disciples of all nations."
The Center for the Study of Global Christianity at Gordon-Conwell Theological Seminary reports that there were 5,171,000 Christian congregations in the world in mid 2011. Eshleman explains, "Many Christian leaders worldwide believe that God is calling us to start 5,000,000 new churches to solve two big problems."
"First, the number of Christians has increased by almost one billion since 1970. This is an increase of more than 83 percent, but the number of churches has only increased by 19 percent. As a result, many new believers are without a church home where they can grow in their faith. This issue is at the heart of Global Church Planting Sunday," Eshleman says.
In addition, he says that there is a famine of church planning training in many countries. "Hundreds of thousands of leaders are called by God to plant churches but have not received sufficient training or support. Training these leaders is another primary objective of Global Church Planting Sunday.
Organizers behind Global Church Planting Sunday plan to make the second Sunday of February every year a day to promote church planting. On this Sunday, pastors will be encouraged to teach about church planting and talk about their own new church projects. In addition, Eshleman hopes that churches will raise funds for church planting, training and missionaries.
Also, Sunday school classes will be teaching children how church planting can help reach the world for Christ, and churches will encourage young people to join a new generation of church planters.
Global Church Planting Sunday was established by Dynamic Church Planting International in 2011. If you would like more information about Global Church Planting Sunday please visit http://www.churchplantingsunday.com.
###