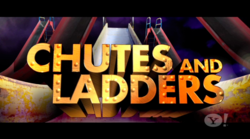 Los Angeles, CA (PRWEB) May 10, 2012
LOUD BOOMING NARRATOR VOICE: "In a world where movie studios have mined summer blockbuster inspiration from 1980s TV cop dramas (21 Jump Street, Miami Vice), non-human action figures (Transformers), and theme park rides (Pirates of the Caribbean, The Haunted Mansion) with no characters to build storylines around, the latest roll of the dice is on vintage games…" Universal Pictures is boasting, "The battle for earth begins at sea," in its current TV campaign for Battleship, which opens May 18. However, the Rihanna vs. aliens adventure is not the first Hasbro game out of the gate.
The playground is the new battleground in Chutes and Ladders, a short film that brings a boatload of Michael Bay action clichés to a kiddie park near you. Chutes and Ladders opened Monday, May 7, on Sketchy, a weekly Yahoo! video showcase that features topical comedy shorts. The spot-on parody of an action movie trailer was written and directed by one-stop production company Kids at Play, a Los Angeles-based shop that creates content for television, motion pictures and digital media. Principato-Young Entertainment, Electus and Yahoo! Studios were Kids at Play's production partners on the project.
"We called friends and family members with children between age 2 and 12, grabbed a Red Epic camera and hit the playground," said Jason Berger, Kids at Play's Founder and Executive Producer, who directed the short. "The kids got to be action stars and we pretended to be Michael Bay for a day—what more could you ask for?"
On Sketchy, Chutes and Ladders is the ultimate battle of good and evil with Timmy, Bobby, Samantha, Lil Jerome, Mercedes and Steve competing for turf dominance in a preview loaded with slo-mo camera work, corny catchphrases ("No child left behind!"), toy gun standoffs and ominous inserts (dark clouds: bad!). In Hasbro's morality tale on a 10x10 game board, a player's kind deeds are rewarded by access to "Ladders" that can be climbed to move closer to the winner's circle. Conversely, bad deeds are punished by perilous slides down "Chutes" that make players repeat past efforts.
Hasbro inked a multi-movie deal for board games (Battleship, Ouija, Candyland, Risk, Clue, Monopoly) with Universal four years ago. However, subsequent titles have had trouble reaching the starting line and have since gone back to the drawing board or switched studios.
About Kids At Play:
Kids At Play is a one-stop production company that creates content for motion picture, television and digital mediums. Our team is young, eager, creative – and nimble, allowing for immediate starts on some of the most compelling projects in video. Our arsenal of producers, writers, directors and editors approach every project in a manner that is collaborative, relevant, engaging and unexpected, and our work is truly a team effort. Both literally and figuratively, we carry the bag and equipment.