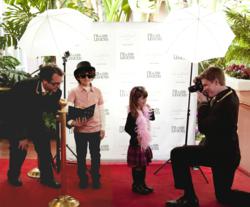 Mini-robes and welcome treats demonstrate that a hotel has put thought into kids, but on their own, these amenities are not enough to create a special experience. Today's luxury-seeking families expect more.
San Francisco, CA (PRWEB) April 03, 2012
Luxury hotel brands are working hard to figure out how to best cater to families in 2012 as discerning travelers are seeking experiences that connect them to a destination. "Luxury travelers in families not only want to embark on incredible experiences such as family-friendly safaris or Amazon cruises, they want to get to know the local people and understand the culture," said Alison Gilmore, Exhibition Director of International Luxury Travel Market (ILTM).
In response to this trend, hoteliers are thinking out of the box when it comes to catering to their youngest guests. "From kid-focused in-room amenities, to dedicated family concierge services, to customized on and off-site activities, hotel managers everywhere consistently seek our feedback on how they can create more compelling and meaningful family programming," said Amie O'Shaughnessy, Managing Editor of the award-winning family travel resource http://www.CiaoBambino.com. "Mini-robes and welcome treats demonstrate that a hotel has put thought into kids, but on their own, these amenities are not enough to create a special experience. Today's luxury-seeking families expect more."
A good example of creative thinking is the Little Legends package at The Beverly Hills Hotel, part of the exclusive Dorchester Collection, where kids get a "Red Carpet Arrival" with a boa for girls and a top hat for boys while an autograph seeker is on-hand to ask for signatures and a paparazzi-style photo is taken. Kids are presented with the photo in a keepsake frame.
Savvy hotel brands understand that if kids are happily engaged and entertained, their parents will be free to relax and spend money on property. Some properties, like Montage Laguna Beach in Southern California, go a step further and extend kids' programming to visitors using hotel services for day use, not just hotel guests. While participating in their popular program, Paintbox, children ages 5-12 enjoy thematically planned days that tie together arts and crafts, games and creative activities both indoors and out at the pool, beach, tide pool and events lawns. Paintbox Petite is available for ages 2-5 years old.
It's not just luxury resort properties that are offering these services, city hotels are now more focused on children as well. The Four Seasons Hotel George V, a luxury landmark hotel in Paris, has a dedicated Recreations Manager just for families.
"With more than 50% of our guests coming to the hotel for vacation, we are a resort in the middle of the city and needed a leisure program. Our Recreations Manager Claudia is a master of understanding what makes kids happy. We all know that if the kids are happy, then the parents are happy too," explained Christopher Norton, Regional Vice President and General Manager of the Four Seasons George V. "We will soon be launching an exclusive partnership with the humorist Nicole Lambert, creator of the "Triplés", the adorable children of a famous French comic strip which has been published since 1983 in the very chic Madame Figaro. The hotel will be hosting the Triplets' adventures through a new surprising kids amenity program throughout the hotel."
Likewise the Trump Hotel Collection in the United States, part of Preferred Hotel Group, offers Trump Kids to children and teens including spa treatments, swimming classes, and customized guest services through a Trump Kids Attaché at Trump properties in New York, Chicago, Las Vegas, and Waikiki Beach.
One reason hotels are seeing more families is that multigenerational travel has become a big market in recent years. Preferred Hotel Group conducted a comprehensive study of this trend and found that found that 40 percent of U.S. leisure travelers – 20.8 million people – had taken a multigenerational trip in the previous 12 months.
"Because of their numbers and frequency of travel, the multigenerational traveler presents a powerful opportunity for the luxury travel market," said Lindsey Ueberroth, President of Preferred Hotel Group. "To take advantage of this, the leisure travel industry must create tailored products and marketing offers. Preferred Hotel Group recognizes the importance of marketing directly to the multigenerational travel group and as a result, we are launching several initiatives aimed at this growing segment, including a new Preferred Family website that will become a valuable trip planning tool, offering travel ideas and advice for families."
Ciao Bambino! Inc. is a leading family travel brand and publisher of a global travel planning resource for families. http://www.CiaoBambino.com, their award-winning guide, features best-in-class hotel reviews and a comprehensive travel blog offering tips, news, and narratives related to traveling with kids of all ages. CiaoBambino.com is the only online dedicated family travel resource offering a booking service for readers who are able to make requests directly from the site to over 300 parent-approved hotels, resorts, and villas. Ciao Bambino specializes in reviewing kid-friendly luxury hotels. Follow Ciao Bambino on Twitter @CiaoBambino and on Facebook at http://www.facebook.com/ciaobambino.