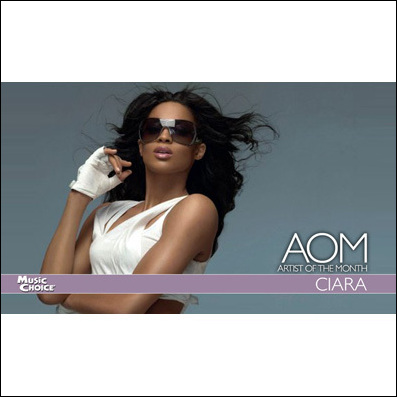 Music Choice recognized Ciara's musical talent very early in her career
New York, NY (PRWEB) January 22, 2007
Music Choice®, the leading, multi-platform music network, today announced that Grammy-winning, multi-platinum R&B star, Ciara will be featured on its February edition of 'Artist of the Month.' The Artist of the Month promotional campaign brings both the music and words of today's hottest artists to millions of music fans through their TVs and PCs.
Throughout the month, Music Choice On Demand will feature unique original programming, including an up-close and personal interview and a hot video list hosted by one of today's most popular young female artists--Ciara, whose new album on LaFace Records, "The Evolution," debuted at No. 1 on the Billboard charts, and has since gone Platinum. Also available for viewing throughout the month will be a wide selection of music videos from Ciara's debut album, "Goodies," and her current hit album, "The Evolution." Viewers can watch "Promise," "Goodies," "1,2 Step," "Get Up," "Lose Control," and many more of Ciara's videos as often as they like at no cost.
"Ciara is in a league of her own," says Julia Lipari, SVP/Head of Marketing at Zomba Label Group. "To look at her music videos alone, all of which are groundbreaking seminal clips, is to witness enormous talent and creativity. We are thrilled Music Choice has chosen to honor Ciara during the month of February by offering Music Choice On Demand viewers the opportunity to see how much she has accomplished, and why she has touched so many fans. In other words, they will experience the evolution of Ciara. She is arguably the most talented young female entertainer in the industry today."
"Music Choice recognized Ciara's musical talent very early in her career," says Lamonda Williams, Director of Urban Music Programming for Music Choice. "Ciara is a perfect addition to the list of superstar artists we have showcased on our Artist of the Month program because of her massive appeal to our audience of millions of music fans nationwide. Music Choice not only showcases the music of this R & B superstar, but we also give our audience a chance to know the person behind the music through the original programming offered as part of our Artist of the Month feature."
Music Choice On-Demand, the #1 free video-on-demand music service in the country, and Music Choice for broadband, the free music service for cable modem subscribers, will feature three original programs in February featuring Ciara to watch whenever - and however often - at no charge.
1) Ciara: The Evolution of Dance - A Hot Video List hosted by Ciara where she reveals several of her favorite dance videos.
2) Ciara: Naked - Up-Close and Personal Interview with Ciara where she talks openly about her phenomenal success as a singer, songwriter, producer and performer.
3) Ciara: The Evolution of Ciara - A journey into the life of Ciara featuring the artist's views on her growth as a recording artist with two hit albums, her ventures into the business world, and the challenges of trying to keep her personal life private.
In addition, the Music Choice audio service, which reaches over 30 million homes nationwide, will feature audio tracks from Ciara's two albums on its Hit List and R & B music channels.
About Music Choice®
Music Choice is the premier multi-platform music network that reaches millions of consumers nationwide through their TVs, PCs, and cell phones. Music Choice programs both video and audio music channels, produces exclusive music shows, films in-studio artist performances and interviews, and distributes daily entertainment news. Music Choice is a partnership among subsidiaries of Microsoft Corporation, Motorola, Inc., Sony Corporation of America, EMI Music and several leading U.S. cable providers: Comcast Cable Communications, Cox Communications, and Time Warner Cable. MUSIC CHOICE® is a registered trademark of Music Choice. Visit the Music Choice website at http://www.musicchoice.com.
Contact:
Karen Doler
Music Choice
(215) 784-5842
###