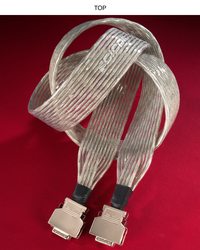 Valencia, CA (Vocus) February 24, 2009
Cicoil, the world's exclusive provider of silicone jacketed, high-flex flat cables, has introduced a line of Camera Link® cable assemblies for industrial motion video and frame grabber applications. The Camera Link® Standard is a set of electrical requirements that cables must meet to be used in a Camera Link® system. Cicoil's new high-flex flat cable assemblies meet or exceed each of the specifications of the Camera Link® standard. Additionally, Cicoil's Camera Link® flat cable assemblies deliver exceptionally long life of at least 10 million flex cycles, with a space-saving 50mm bend radius providing unsurpassed flexibility for moving video applications. Cicoil manufactures Camera Link® cable assemblies to any length for custom fitting.
Cicoil's Camera Link® cable is made with the company's exclusive extrusion process that encapsulates 11 parallel twinax conductors in crystal clear silicone, forming a flat cable less than 3/16-inch thick. The one-piece silicone jacket is extremely durable, flexible, and water-proof. Each twinax conductor features ultraflex, finely stranded wires, with dual shielding for optimum signal quality and speed. The cable measures 1.5" wide x 0.164" thick, with the length specified by the customer. Standard assemblies are finished with metal EMI/ESD protective connectors with quick-release latches. Plastic shells are also available.
Cicoil is unique in its ability to include Camera Link® capability into flat cables that also integrate power, signals, and even hollow tubing for pneumatic or hydraulic use.
Cicoil has been a leader in designing and manufacturing high performance cable assemblies for over fifty years. The company's unique silicon coated flat cables provide high flexibility, extremely long life, and they can withstand temperature extremes from -65 degrees to +260 degrees Celsius. Cicoil's cables are used in thousands of demanding applications, including aircraft fuel control cells, semiconductor automation, and the Space Shuttle. Cicoil designs and manufactures its cable and cable assemblies in an automated facility in Valencia, California. Cicoil's quality assurance system is certified to the ISO 9001 (AS9100) standard. Further information, application assistance, and sales inquiries can also be obtained by visiting http://www.cicoil.com, or by calling 661-295-1295.
Media Contact:
Howard Lind
Cicoil
PH: 661-295-1295
FAX: 661-295-0813
hlind (at) cicoil (dot) com
###