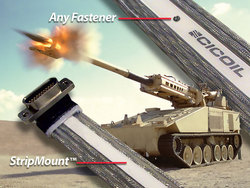 Valencia, CA (Vocus) July 24, 2009
Designers of the United States Army's Future Combat System have selected Cicoil silicone encapsulated cables, with new StripMount™ option, for use in their new generation of guided munitions.
The Mounted Combat System, part of the United States Army's Future Combat System, features precision-guided, 120-mm gun-fired smart ammunition that provides a beyond-line-of-sight capability. In other words the projectile contains a guidance system that sustains 10,000 G's of shock force when fired. Cicoil high performance silicone jacketed, high-flex flat cables have been specified to form the Control Systems Actuator Harness. To conserve space while preserving secure positioning of the harness, the design incorporates Cicoil's new StripMount™ feature.
StripMount™ is a fiberglass-reinforced ribbon that may be incorporated into any Cicoil cable. It is encapsulated in Cicoil's silicone jacketing. StripMount™ makes it quick and easy to mount cables to any surface. The patent-pending design allows holes to be easily punched or drilled through the StripMount™ cable reinforcement at whatever intervals needed. Use any fasteners to attach the cable to any surface.
Using StripMount™ equipped cables eliminates the need for costly conduit and cable tie hardware. It streamlines cable installation and save space. Cables with StripMount™ may be installed using self-tapping screws, rivets, or the wide variety of quick-operating metal or plastic panel fasteners available. In addition, because Cicoil cables are flat, multiple cables can be stacked and attached to any surface.
Download a complete StripMount™ data sheet at the company's web site: wwwcicoil.com. Further information, application assistance, and sales inquiries can also be obtained by calling 661-295-1295.
Cicoil has been a leader in designing and manufacturing high performance cable assemblies for over fifty years. The company's unique silicone coated flat cables provide high flexibility, extremely long life, and they can withstand temperature extremes from -65 degrees to +260 degrees Celsius. Cicoil's cables are used in thousands of demanding applications, including aircraft fuel control cells, semiconductor automation, and the Space Shuttle. Cicoil designs and manufactures its cable and cable assemblies in an automated facility in Valencia, California. Cicoil's quality assurance system is certified to the ISO 9001 (AS9100) standard. Further information, application assistance, and sales inquiries can also be obtained by visiting http://www.cicoil.com, or by calling 661-295-1295.
Media Contact:
Howard Lind
Cicoil
PH: (661) 295-1295
FAX: 661-295-0813
# # #