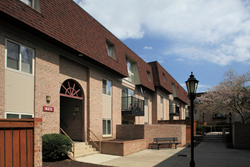 "The acquisition of Cider Mill Apartments presents us with an outstanding opportunity to reposition a well-located apartment community in a strong rental market." - Carlton Einsel, President, The Donaldson Group
Rockville, MD (PRWEB) March 06, 2014
The Donaldson Group (TDG) of Rockville, MD and its equity partner, New York-based Angelo, Gordon & Co. (AG), have acquired Cider Mill Apartments, an 864-unit garden-style apartment community located in Montgomery Village, Maryland. The acquisition price was approximately $110 million, and the partnership plans to invest an additional $15 million to renovate the property.
Matthew Williams and Maury Zanoff of CBRE Capital Markets assisted the AG-TDG partnership in obtaining acquisition financing from HSBC Bank. The seller, Home Properties, was represented by Bill Roohan and Brian Margerum of CBRE's Baltimore, MD-based investment sales group.
Situated on approximately 42 acres, Cider Mill is located in Montgomery County one mile from I-270 and 1.5 miles from the Gaithersburg MARC commuter rail station. Just across the street is Lakeforest Mall, a 1.1 million square foot shopping center with over 150 retailers and eateries, including anchors JC Penney, Lord & Taylor, Macy's, and Sears. The mall is currently undergoing a significant renovation.
Cider Mill is comprised of 72 garden apartment buildings constructed between 1971 and 1973. Its one-, two- and three-bedroom apartment homes range from 690 to 1,140 square feet in size. Amenities include an Olympic-size swimming pool, fitness center, resident services center, playgrounds, central laundry facilities, picnic and barbeque areas, and a car wash station.
TDG's renovation will include replacing the original, outdated central heating and cooling plant with individual high-efficiency electric heat pumps for each apartment. The new ownership also plans to upgrade the building facades, common areas and courtyards, landscaping and fencing, leasing center, fitness center, and pool house. Individual apartments will be renovated with all-new kitchens (cabinetry, countertops, flooring, lighting, and appliances), carpeting, doors, fixtures, bathrooms, and in-unit washer-dryers.
"The acquisition of Cider Mill Apartments presents us with an outstanding opportunity to reposition a well-located apartment community in a strong rental market," said Carlton Einsel, President, The Donaldson Group. "We are extremely pleased to have executed this transaction with our partners at Angelo, Gordon & Co. and we continue to seek similar deals."
"This property has significant upside potential, and we look forward to creating value for both the residents and our partnership through our planned renovations," said John Majeski, Senior Vice President, The Donaldson Group. "This is the type of project that plays directly to The Donaldson Group's strengths."
The Donaldson Group is a full-service real estate management and investment firm offering comprehensive services and expertise in property and asset management; accounting and financial management; investment, underwriting, and acquisition analysis; and construction management and renovation services. Since 2003, TDG has advised clients on the acquisition of over 15,000 multifamily units valued at well over $1.5 billion, and has taken over management of over 25,000 units. During this same time period, TDG has advised clients in disposing of over $1 billion in real property investments, comprising approximately 10,000 units, and has managed over $200 million worth of renovation work. For more information, visit http://www.thedonaldsongroup.com.
Angelo, Gordon & Co., L.P. is an SEC registered investment advisor and privately held limited partnership founded in November 1988, and currently manages approximately $25 billion. The Firm's investment focus centers around three core competencies - credit, real estate, and private equity - and manages capital across five principal areas: (i) private equity, (ii) real estate equity and debt and net lease, (iii) residential and commercial mortgage-backed and asset-backed securities, (iv) distressed debt and leveraged loans, and (v) multi-strategy. Angelo, Gordon has approximately 300 employees (110 of whom are investment professionals) and is headquartered in New York, with associated offices elsewhere in the US, Europe and Asia. For more information, visit http://www.angelogordon.com.