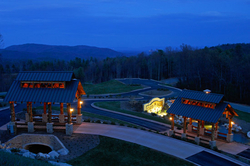 This is another aspect of how Cielo Falls shows that you can respect the environment and enjoy the ultimate in a mountain lifestyle without sacrificing anything
Boone, NC (PRWEB) July 22, 2009
Cielo Falls, an award-winning Log and Timber Frame luxury home community on the Blue Ridge Parkway known for its stunning view homesites and earth-friendly culture, has enhanced its already pristine environment with more groundbreaking sustainability measures.
The Cielo Falls credo of "naturally inspired living on the Parkway" derives from Cielo's philosophy of carefully integrating new green technologies found in, among other elements, the recently completed, on-site wastewater treatment facility, to create sustainable stewardship of the land for its owners.
"This is another aspect of how Cielo Falls shows that you can respect the environment and enjoy the ultimate in a mountain lifestyle without sacrificing anything," says Mark Yates, Cielo Falls Developer.
Cielo Falls was recognized last year for award-winning stream rehabilitation projects that turned degraded creeks back into pulsing corridors of life with clean water and a resurging trout population. Cielo Falls worked with Trout Headwaters, Inc., of Montana, to renew not only the streams but also all adjacent shoreline and pathways.
Deer graze along miles of newly seeded and naturally manicured trails that have been revitalized and restored, while streamside wildlife has prospered in the 1,100-acre community perched on the Blue Ridge Parkway.
Homeowners here also appreciate and embrace groundbreaking rainwater-retrieval technologies that leave original aquifers and terrain intact while harvesting naturally soft and pure rainwater.
And, with the completion of the on-site, state-of-the-art wastewater treatment facility, Cielo Falls completes its promise to make a truly significant contribution to the surrounding region through sustainable and highly eco-conscious technologies integrated into the community's master plan.
The timeless rustic elegance of log and timber frame homes at Cielo Falls is a near-perfect model of desirability and beauty in sync with natural energy efficiency. Cielo Falls provides the ultimate in elegant 2,500 to 5,000 square foot log and timber frame homes in an eco-conscious project that will boast a 40,000 square foot clubhouse and numerous social areas, yet will preserve 83 percent of its 1,100 acres untouched by development.
The new water purification center is an engineering marvel born of respect for the environment that drives the Cielo Falls philosophy. "With our new state of the art water treatment, owners can live here secure in the knowledge of environmental responsibility, while enjoying the best in cost savings due to the efficiencies," says Yates.
Due to the natural terrain at Cielo Falls and its proximity to the Blue Ridge Parkway, a total of 5,800 acres of water passes over and through the property. With Cielo's green-friendly water technologies, the developer ensures that these water flows cleaner and healthier than when the land was purchased.
"Its' part of our whole rainwater solution. We gather it, use it in the homes, clean it in our new treatment facility and return it to the ecosystem more pure than we received it," says Yates. "It's an efficient cycle."
In keeping with the aesthetics of this scenic community, the water center uses cutting-edge biotechnology in its purification process and the entire facility is housed inside a log-home structure, so the technology is fully integrated and looks like any home in the community.
"To drive by you wouldn't know what it is," says Yates. "It's more cost effective and environmentally responsible than septic, and it's something nobody else is doing."
"Cielo greatly surpassed government mandates with the stream rehabilitation project," says Mike Sprague of Trout Headwaters International, who oversaw restoration. "Damage from old logging practices of the past has been replaced by beautiful streams, productive fisheries, and miles of private hiking trails."
Cielo Falls will also be leading the way in the region with its future use of highly efficient geothermal power. Wind power is on the slate as well. Says Mark Yates: "We hope we are setting new standards for sustainability and conservation for future developers building in the mountains who might use Cielo Falls as an example of leaving future generations better for our being here."
Contact: Bill Shea
Phone (336) 456-4045
###