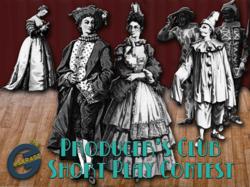 The experienced directors competing with each other along with the playwrights is going to be a treat to any theatre lover.
(PRWEB) June 14, 2013
The directors of the five shortlisted plays have been busy auditioning and rehearsing for the upcoming Producers Club Short Play contest. The plays selected by the jury are the best among the submissions received and have attracted veteran directors to be part of this venture. Richard Kline known to millions as 'Larry' on the classic sitcom Three's Company has won the LA Drama Critics Circle Award for his direction of Noel Coward's Present Laughter. He will be directing The Big Ass Russian Novel written by Jake Rosenberg.
Bob McAndrew, the acting coach of Chris Cooper, Christopher Walken and Tom Selleck will be directing Paparazzi written by Elena Naskova. With over 25 years experience in theatre, John J Bruno will be directing the play The Yellow People by Kerri Quinn as he felt that this play most spoke to him.
Robert Goodman, an actor himself, is also a teacher, director and filmmaker with more than 30 years of experience in all disciplines and media in the performing arts. He would be directing the play The Lunch Break Manifesto written by Kevin Jones. Beth Newbery is the founder and mentor of Infusion Arts, a foundation combining cultures in communities through theatre in Africa. She is directing Diagnosis: Debt or Death written by Dennis.E. Rager.
The experienced directors competing with each other along with the playwrights is going to be a treat to any theatre lover. Each ticket is an admission to all five plays. The tickets are expected to sell out quickly as they are already on sale. They can be purchased from egarage.tv.
During the course of the plays, three judges will attend, one per performance. The winning play will be announced after one week and they will be brought back to perform for a three-camera set-up. The recording will then be edited and put on a professionally designed DVD for the cast and crew, as well as a copy that can be used in their reels all worth $2000.
For those playwrights who missed submitting to the contest, now have the chance as they are accepting submissions for their fall contest until June 21st 2013. The participants will be notified by or about June 28th 2013.
Cieri Media International Corp, a technology driven video production company founded in 2009, sponsors the Producers Club Short Play Contest. They specialize in high quality, price driven videos for company websites and commercials, artists' videos, actors' reels, authors' book videos, sizzle reels, original shows and video production.