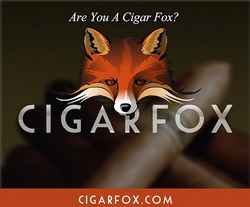 La Riqueza cigars represent an excellent new offering among our diverse premium cigar selections at CigarFox.com
Troy, Michigan (PRWEB) December 9, 2008
CigarFox.com, owned by entrepreneur Dan Jenuwine, announces that La Riqueza are now available for purchase at the website. (http://www.CigarFox.com)
"La Riqueza cigars represent an excellent new offering among our diverse premium cigar selections at CigarFox.com," commented Dan Jenuwine, Sr., President of Liaison Sales & Marketing, the parent company of CigarFox.com.
La Riqueza, meaning the "The Riches" or "The Wealth" in Spanish, is the newest creation from Pete Johnson, the mind behind the incredibly successful Tatuaje Cigars. The medium bodied Cuban-style cigar features Nicaraguan binder and filler, with a luxurious Connecticut Broadleaf wrapper. The wrappers are dark natural, with no maduro processing.
La Riqueza was originally a Cuban brand made in the Quintero factory in the 1920s through the 1940s. Blended and rolled in Nicaragua by Jose Pepin Garcia, La Riqueza cigars feature original Cuban artwork on the bands. The traditionally box pressed cigars are available in 5 classic Cuban sizes: No1 6.5x42, No2 5.5x52, No3 5.5x46, No4 5x48, and No5 4.5x42.
CigarFox.com provides users the ability to create their own cigar sampler by hand-selecting individual cigars and adding them to a box. Web site guests have the opportunity to mix and match the specific cigar brands, flavors and sizes that they want; in place of pre-made samplers that contain items the smoker may not wish to purchase. For every five premium cigar singles that are purchased, the visitor has earned a free cigar. Full cigar boxes, cigar tins and cigar accessories are also available at the web site.
About CigarFox
CigarFox provides you the opportunity to build your own sampler of the finest cigars that include cigar brands like Montecristo, Romeo & Julieta, H Upmann, Macanudo, Cohiba, Partagas, Gurkha and many more. Choose from more than 1200 different cigars! Other cigar products include cigar humidors, cigar boxes, and cigar accessories like Zippo Lighters. For more information, please visit http://www.CigarFox.com.
CONTACT:
Tommy Paull
CigarFox
PO Box 1467
Troy, MI 48099
news at CigarFox dot com
# # #