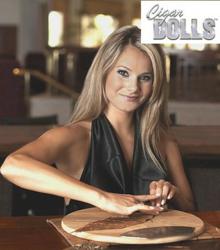 Your guests will never expect them, or forget them
(PRWEB) September 12, 2012
Fresh ideas for events are hard to come by so when one catches on, it spreads fast.
The Cigar Dolls are female cigar rollers that are not only pleasant to look at, but have the unique talent of cigar rolling typically passed on through a family history in the tobacco industry. The success that the Cigar Dolls have generated throughout the United States in has now given way to an international audience in Europe, Canada and the Caribbean.
Cigar rollers are quite an interesting feature but these female cigar artisans take cigar rolling entertainment to a whole new level. These unique, female cigar rollers handle Las Vegas, Orlando, Miami, New York, San Francisco, Chicago, Dallas, Houston, Boston, Los Angeles and Orlando events. The news now is that this trend of cigar rolling ladies are now available in Canada and Europe as they have officially announced their international launch. Cigar Dolls events are already scheduled in Toronto, Italy and Spain. The Cigar Dolls are now officially global.
Sparked by their VIP clientele, these cigar rollers have performed at major events in various countries throughout their history. One of the most recent events was a chic, multi-date wedding in New Delhi, India where Ana, an American, Cuban cigar roller and Boston Cigar Doll, rolled cigars for the wedding guests over a series of eight days with four events that included dignitaries, a Who's Who of pop culture with a budget close to $1 million. Mia has rolled cigars for guests in Toronto and Montreal Canada, Rome and soon will be in Milan, Italy.
The Cigar Dolls cigar rollers are coordinated by special events experts that handle the domestic affairs while coordinating the logistics involved with the international events. Liaising with customs brokers can be intricate when dealing with tobacco and logistical planning requires attention to detail that only experienced, national event planners can execute properly. These event planners have all the angles covered by the time the Cigar Dolls appear at an event.
The NY Times wrote an informative article regarding Cigar Dolls with a feature of the company's Boston Cigar Roller, Ana. Ana Perez is a Cuban Cigar Roller that is often requested for her authenticity, cigar talent and pleasant appearance for large Boston and New York events. All of the "Dolls" have been rolling for the company since it's inception with one recent addition, Katrina, the cigar roller in Las Vegas. The photo of a female cigar roller alone is something that has never been in print before in the New York Times. Read more, Cigar Rollers, NY Times article
She is usually booked for "..more of the upscale events.." says spokesperson Maria Pesso. Corporate event planners featuring cigar rolling at their client's events in Boston, Cambridge, Quincy, Cape Cod, Newport and Portsmouth Rhode Island "..request Ana specifically". "She's real, Cuban, youthful and is someone that you would like to have at your party". Mia does a lot of the international as well and is currently rolling cigars in Rome, Italy. Guests also like to speak with her to the extent that she sometimes is delayed in rolling the cigars. Her story is intriguing and the other "Dolls" have individual stories as well which make the cigar rolling feature quite an experience. Lupita in Los Angeles rolls cigars for celebrities and Mia in South Beach rolls her tobacco for the nightclubs in Miami where she sometimes gets a less than friendly look from the vast Cuban cigar rolling population in Miami. Toronto and Montreal events often have Monica. Mia and Ana are the featured rollers for European events as both are on the east Coast and are more accessible to the closest airports, being the "Boston Cigar Roller", Ana is the usual choice for events overseas.
Cigar Dolls merchandising is now underway after a pilot program with Amazon.com.
The Cigar Dolls posters which have been selling on the marketing giant's website for over a year, will soon be available directly from the company web site. The images of these cigar rolling ladies have found homes on the walls of over 300 "man caves" throughout the country. As you may have guessed, everything from coffee mugs to apparel will follow soon.
Seeing an attractive lady is nothing new but, seeing an attractive lady roll cigars is something fresh.
The feature is so different that these upper end clients will request multiple cigar rollers to embellish the entire visual of the performance. These women give credibility to the Cigar Dolls' tagline which is, "Your guests will never expect them, or forget them".
Contact
Joe Sanders – Cigar Dolls
877-721-2777
CigarDolls.com