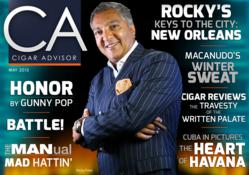 Informed cigar smokers are...essentially asking cigar makers to reveal their trade secrets.
Easton, PA (PRWEB) May 21, 2013
The all-new Cigar Advisor is an online cigar magazine that brings a fresh, irreverent, and down-to-earth perspective on all things cigars to thousands of smokers. In addition to educational cigar content and behind-the-scenes cigar industry articles from some of the business' top names, Cigar Advisor delivers an array of content about a variety of topics of interest to people who enjoy the cigar lifestyle. The magazine also features cigar reviews and ratings submitted by real smokers. Cigar Advisor has just added three of the world's leading cigar manufacturers to their list of contributors: Charlie Toraño of the Toraño Family of Cigars, Christian Eiroa of CLE Cigars and Matt Booth of Room 101 Cigars; each has just released a new piece in this month's Cigar Advisor Magazine.
Charlie Toraño makes the case for trade secrecy in cigar blends. Informed cigar smokers often want to know what tobaccos are in their favorite blends, Toraño argues, but by doing so they're essentially asking cigar makers to reveal their trade secrets. What's more, even by knowing country of origin, seed, and priming of all the tobaccos in a blend, one still knows less than expected about the blend. Charlie asks, "Is an oversupply of information limiting the cigar experience?"
Christian Eiroa recently spoke with a relative newcomer to the cigar industry who proudly proclaimed, "Nobody knows more about cigars and tobaccos than I do." Eiroa disagrees, saying the scope of tobacco knowledge is infinite. Christian talks in tobacco terms about bravado – and his reverence for the true guajiros who, he believes, risked everything to develop and cultivate a tobacco business in Central America.
Matt Booth contributes a monthly column featuring his edgy relationship advice, titled "Sucka Fo' Love." In this issue, Matt discusses give and take – and makes recommendations for when one finds himself giving, and never taking. It's time to man up, Booth advises: "Take your wallet back, and make way for a new #1. And if your partner isn't much of a partner, get a dog."
About Cigar Advisor Magazine
Cigar Advisor magazine is a digital publication created for real cigar enthusiasts who love tobacco and live the lifestyle. Cigar smokers are passionate about almost everything they do - whether it's the drinks they savor, the food they devour, the cars and motorcycles they dream of, the sports they're fanatical about or the women they love, Cigar Advisor shares those passions with a razor-sharp edge, soaking up each day and experience as if it were our last. Find that passion and more on display at CigarAdvisor.com.