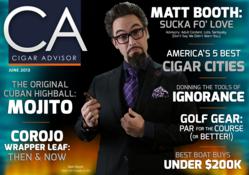 It looks like you're getting something serious; you know you're going to sit down and partake in a ritualized, masculine experience.
Easton, PA (PRWEB) June 08, 2013
The all-new Cigar Advisor is an online cigar magazine that brings a fresh, irreverent, and down-to-earth perspective on all things cigars to thousands of smokers. In addition to educational cigar content and behind-the-scenes cigar industry articles from some of the business's top names, Cigar Advisor delivers an array of content about a variety of topics of interest to people who enjoy the cigar lifestyle. The magazine also features cigar reviews and ratings submitted by real smokers. Cigar Advisor has just published two new updates to their June issue: an opinion piece on the lack of substance currently in the world of marketing by cigar manufacturer Ernesto Padilla, and an audiophile's gear guide to improving digital music playback.
Ernesto Padilla of Padilla Cigars writes "Substance & Style," his personal take on the state of marketing and its effect on how we determine our personal style. "From our politicians to the things we consume, I think we're starving for authenticity in everything," says Ernesto. "The irony is, the more I look around, the more I see silliness overtaking substance." He specifically calls out beer brewers, comparing their "loveable idiot" style of marketing to the respectable manliness portrayed in ads for whisky. "It looks like you're getting something serious; you know you're going to sit down and partake in a ritualized, masculine experience."
Padilla makes note of this trend in his arena of the cigar business. "To me," says Ernesto, "it detracts from the product, and cheapens the experience. This is something you're going to spend good money on, put in your mouth, and hopefully enjoy. Do you want goofiness, or do you want something serious?"
Eric Angevine contributes "How to Improve Your Digital Sound." His piece is equal part education on the science of digital music, and recommendation list of technology that music lovers might consider using to augment their listening experience. Eric writes, "the convenience of carrying 1,500 songs around in your phone is made possible by digital compression, which literally removes some parts of the file to make it fit. The result is music that sounds flat and antiseptic to the ear." His advice to enjoy the full, warm sound of a classic LP, but still be able to carry our entire music library in our pocket is to invest in some specific technology. Eric discusses lossless audio compression, and audiophiles who are now downloading their music in FLAC (Free Lossless Audio Codec) or Apple Lossless files.
He also weighs the potency of DACs (Digital to Analog Converters): "all digital music is converted back to analog before we hear it. Your handheld device has a small, inefficient DAC in it. The best DACs can reproduce the expansive sound of classic vinyl from the crushed up ball of digital data we call a music file." Angevine also points to companies now making component DACs that can be added to an existing system.
About Cigar Advisor Magazine
Cigar Advisor magazine is a digital publication created for real cigar enthusiasts who love tobacco and live the lifestyle. Cigar smokers are passionate about almost everything they do - whether it's the drinks they savor, the food they devour, the cars and motorcycles they dream of, the sports they're fanatical about or the women they love, Cigar Advisor shares those passions with a razor-sharp edge, soaking up each day and experience as if it were our last. Find that passion and more on display at CigarAdvisor.com.