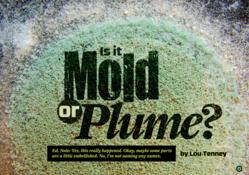 Maintaining your humidor properly and spot-checking your cigars goes a long way toward protecting you.
Easton, PA (PRWEB) June 17, 2013
The all-new Cigar Advisor is an online cigar magazine that brings a fresh, irreverent, and down-to-earth perspective on all things cigars to thousands of smokers. In addition to educational cigar content and behind-the-scenes cigar industry articles from some of the business's top names, Cigar Advisor delivers an array of content about a variety of topics of interest to people who enjoy the cigar lifestyle. The magazine also features cigar reviews and ratings submitted by real smokers. Cigar Advisor has published a feature article titled "Is it Mold or Plume?" – which serves as a guide to spotting the differences between these often-confused conditions that can affect a cigar.
CigarAdvisor Executive Editor Hayward "Lou" Tenney recounts an experience at his local tobacconist, in which the shop employee tried to pass off moldy cigars as cigars covered in plume (sometimes, also called "bloom").
In his new piece, Lou asks openly: "Have you ever bought or been given a cigar covered with plume? Are you sure it wasn't mold?" Drawn from his personal experience, he relates how he and his friends had similar misconceptions about mold and plume/bloom.
Tenney notes some of the differences between mold and plume: mold will manifest as patches of white to off-white fuzz that will stain the cigar wrapper, even after it's wiped away; plume develops as very small crystals over months or years of untouched aging, and would wipe away cleanly. He then describes how each will affect your cigars.
"Given recommended ideals for proper humidity and temperature," writes Tenney, "we store our cigars on a perilous razor's edge." He recommends taking a careful look at the cigars in question. "Mold can spread quickly, and if unchecked, could ruin an entire collection. Maintaining your humidor properly and spot-checking your cigars goes a long way toward protecting you."
Lou delivers guidance on how to avoid mold on cigars, steps to take if mold is found on the cigars, and cautions on smoking a cigar on which mold has developed: "don't do it."
About Cigar Advisor Magazine
Cigar Advisor magazine is a digital publication created for real cigar enthusiasts who love tobacco and live the lifestyle. Cigar smokers are passionate about almost everything they do - whether it's the drinks they savor, the food they devour, the cars and motorcycles they dream of, the sports they're fanatical about or the women they love, Cigar Advisor shares those passions with a razor-sharp edge, soaking up each day and experience as if it were our last. Find that passion and more on display at CigarAdvisor.com.