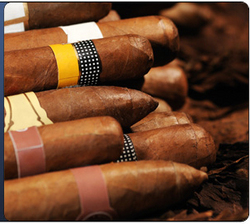 Lakemoor, IL (Vocus) November 30, 2010
It's that time of year again; the season that has you stressing to find the perfect gift for the variety of folks in your life. From nephews to uncles, everyone is into different things; therefore, the answer is never clear. Knowing this, the Cigar of the Month Club from Clubs of America is excited to announce a unique gift solution, just in time for the holidays, for the tobacco enthusiast on your list, the world's finest cigars shipped directly to your door each month.
The name says it all; the Cigar of the Month Club from Clubs of America is a subscription-based service that delivers five aromatic, easy-smoking cigars to your home for as long as you desire. From one month to a full year subscription and beyond, members receive an impressive assortment of humidor-fresh, imported premium cigars each and every month.
From Honduras to Amsterdam, Cuba to Luzon, Clubs of America's cigaristas scour the globe in search of the finest cigars for their cigar club members and deliver the choicest handcrafted, richly flavored exotic cigars, straight from their humidors in double airtight packaging.
In addition to the spread of fine cigars, your first shipment comes with a free cigar cutter and each subsequent delivery also includes the club's "Cigar Expeditions" newsletter and a free personalized Cigar Club gift letter.
Rare tobacco blends from every corner of the world, expertly hand-rolled and preserved for optimum freshness, gives the Cigar of the Month members the opportunity to savor world-class cigars at their leisure and by joining the club this holiday, your gift is sure to make them light up for months to come.
The Cigar of the Month Club from Clubs of America is one of America's longest-running monthly cigar clubs. Since 1994 it's been their pleasure to share exotic cigars from across the world with those who enjoy the timeless pleasure of a truly fine cigar – the most premium cigars available, direct to your door each month.
# # #