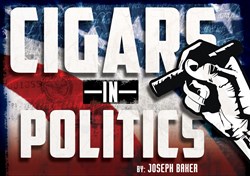 While I was in office, Washington was not the Washington we see today. It was a cigar-friendly city.
Easton, PA (PRWEB) August 25, 2013
The all-new Cigar Advisor is an online cigar magazine that brings a fresh, irreverent, and down-to-earth perspective on all things cigars to thousands of smokers. In addition to educational cigar content and behind-the-scenes cigar industry articles from some of the business's top names, Cigar Advisor delivers an array of content about a variety of topics of interest to people who enjoy the cigar lifestyle. The magazine also features cigar reviews and ratings submitted by real smokers. Cigar Advisor has just published a new article called "Cigars in Politics," an interview with former Arizona Rep. JD Hayworth (R).
Cigar Advisor contributor Joseph Baker recently had the opportunity to sit down with former Arizona Congressman and avid cigar smoker, JD Hayworth (R), who recounts his 12 year term in Washington in this new Cigar Advisor piece. The men discuss why and how Hayworth became a United States Congressman, and how smoking cigars played an important role to Hayworth during his two terms. They also refer to how, contrary to popular belief, the work done in D.C. doesn't always happen in those stereotypical "smoke-filled rooms."
"[While I was in office] Washington was not the Washington we see today," says JD. It was a cigar-friendly city. We were free to smoke in our offices and any number of other places at the Capitol…Now, good luck finding a place in Washington to smoke a cigar..."
The two men chatted about Hayworth's background, including his telling the story of how he decided to run for Congress. As Baker tells it, when JD learned that his wife, Mary, was pregnant with their second child, JD wanted to drop the idea of being a Congressman; his wife insisted he pursue his dream of public service. After mulling it over with the aid of a good cigar, JD decided to enter the race as a Republican candidate.
In November of 1994, Hayworth won the first of his two terms in Congress. "His days would now consist of lobbyists, irate political opponents, the media, trips abroad, and discussing issues over cigars with his congressional colleagues," according to Baker. As for their role in politics, Rep. Hayworth considers a good cigar " a great neutralizer," adding, "Cigars invite commonality." To read more of Baker's interview with Rep. Hayworth, visit the latest issue of Cigar Advisor Magazine.
About Cigar Advisor Magazine
Cigar Advisor magazine is a digital publication created for real cigar enthusiasts who love tobacco and live the lifestyle. Cigar smokers are passionate about almost everything they do - whether it's the drinks they savor, the food they devour, the cars and motorcycles they dream of, the sports they're fanatical about or the women they love, Cigar Advisor shares those passions with a razor-sharp edge, soaking up each day and experience as if it were our last. Find that passion and more on display at CigarAdvisor.com.