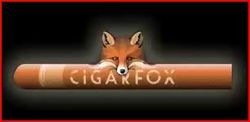 We are very eager to get feedback from internet users so that we may find even better ways to serve our clients on the web.
Troy, MI (PRWEB) June 19, 2008
CigarFox.com, a pick-your-own premium cigar store, is currently offering website visitors the opportunity to "Earn a Free Cigar" by completing a short, 2-question survey which can easily be submitted in less than sixty seconds.
Upon visiting the website, visitors may simply familiarize themselves with CigarFox.com; and then, click the "Earn a Free Cigar" link to complete the survey. CigarFox.com only ships to locations within the United States, including U.S. military APO and FPO locations; therefore, to receive the free premium cigar, the respondent must provide a U.S. mailing address for shipment. Furthermore, to qualify for the free cigar offer, a respondent must provide a valid email address and verify their age as 21 years or older.
"My family has been in the Cigar Business since 1946 and we have recently expanded our business in a refreshing new way that allows buyers to purchase cigars via the internet in a way never seen before," said, Dan Jenuwine, Sr., President of Liaison Sales & Marketing, parent company to CigarFox.com. "We are very eager to get feedback from internet users so that we may find even better ways to serve our clients on the web."
CigarFox.com provides users the ability to create their own cigar sampler by hand-selecting individual cigars and adding them to a box. Website guests will enjoy mixing and matching the specific cigar brands, flavors and sizes that they want; in place of pre-made samplers that contains items the smoker may not wish to purchase. Full cigar boxes, cigar tins and cigar accessories are also available at the website.
The Jenuwine Family has been involved in the Tobacco business for more than 50 years. In 1996, the family's mail order cigar business was opened as a Michigan-based corporation owned and operated by Daniel J. Jenuwine. From an initial catalog containing 11 items that was mailed to 5,000 consumers, the business today has more than 2000 items in its catalogs and on its websites and mails more than 500,000 consumers annually. The company sold more than 1 Billion cigars in 2007.
About CigarFox
CigarFox provides you the opportunity to build your own sampler of the finest cigars that include cigar brands like Montecristo, Romeo & Julieta, H Upmann, Macanudo, Cohiba, Partigas, Gurkha and many more. Choose from more than 1000 different brands! Other cigar products include cigar humidors, cigar boxes, and cigar accessories like Zippo Lighters. For more information, please visit CigarFox.com.
CONTACT: Tommy Paull, CigarFox, PO Box 1467, Troy, MI 48099, news@CigarFox.com
###