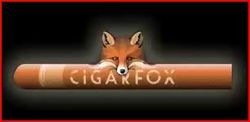 Savor an American favorite. Live in the luxurious image of Hugh Hefner. Try a Playboy by Don Diego and fall in love with the silhouetted lady!
Troy, Michigan (PRWEB) June 25, 2008 -
As part of its, "Buy 5 Premium Cigars; Get the 6th Cigar Free" promotion, CigarFox.com is currently offering the infamous Playboy cigar as one of its free cigar options.
CigarFox.com provides users the ability to create their own cigar sampler by hand-selecting individual cigars and adding them to a box. Website guests have the opportunity to mix and match the specific cigar brands, flavors and sizes that they want; in place of pre-made samplers that contains items the smoker may not wish to purchase.
For every five premium cigar singles that are purchased, the visitor has earned a free cigar. Customers typically may choose their 6th free cigar from an outstanding array of six different premium cigars. The cigars currently offered as free 6th cigar choices are: Montecristo White Rothchild; Camacho Havana Monarca; La Gloria Cubana Wavell; Onyx Reserve Mini Belicoso; Ted's 6x50; and Playboy Robusto.
The infamous Playboy cigar was first introduced at a spectacular event held at the notorious Hugh Hefner mansion in 1996. After twelve years, the Playboy cigar continues to draw unmatched style. Its beautiful medium body is fragrant with Dominican filler and binder. Delicately wrapped in a Connecticut Shade, cigar aficionados will be enticed by the zesty taste and rich aroma.
Hugh Hefner created his infamous Playboy empire with a $600 investment and a picture of Marilyn Monroe. To his many credits, upholding first amendment rights through his magazine is steadfast. Always persevering in manifesting products with a mark of distinction, the Hugh Marston Hefner (HMH) Playboy cigar was a natural fit. Throughout history, cigars have been associated with celebrations, births, personal and business successes.
Altadis USA holds the distribution privilege of Playboy among its enviable stable of trademarks. The worlds' largest cigar corporation is proud to maintain the Playboy tradition of elegance.
The Playboy cigar continues to be the exclusively featured cigar at events hosted for celebrities and VIPs alike. Their enthusiasm for the luxurious image is elevated just by opening the cedar lined-mahogany boxes. Consistently blended and hand crafted in the Dominican Republic this cigar has excellent performance.
Cigarfox.com was created by connoisseur Dan Jenuwine to satisfy the desire for unique smoking experiences. Jenuwine has a passion for all that Playboy cigars symbolize, "Savor an American favorite. Live in the luxurious image of Hugh Hefner. Try a Playboy by Don Diego and fall in love with the silhouetted lady!"
At CigarFox.com, cigar smokers can choose any combination of the five lengths offered or from any one of 200 other brands. Choose five, then get one free! Full cigar boxes, cigar tins and cigar accessories are also available at the website.
About CigarFox:
CigarFox provides you the opportunity to build your own sampler of the finest cigars that include cigar brands like Montecristo, Romeo & Julieta, H Upmann, Macanudo, Cohiba, Partagas, Gurkha and many more. Choose from more than 1200 different cigars! Other cigar products include cigar humidors, cigar boxes, and cigar accessories like Zippo Lighters. For more information, please visit CigarFox.com.
CONTACT: Tommy Paull, CigarFox, PO Box 1467, Troy, MI 48099, news @ CigarFox.com
###