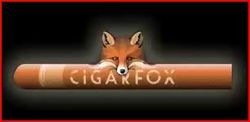 If I give a businessman 10,000 francs, what is that to him, he is rich. But if I give him a Cohiba cigar, that is style.
Troy, MI (PRWEB) June 26, 2008
A value of $49.99, two Cohiba Dominican Robustos, plus a beautiful black leather cigar valet are currently being offered at CigarFox.com for only $9.99. Aluminum tubes are covered in leather to protect the cigars. The valet also contains a place for cash, business cards and a pen, and zips up to a convenient 4"x8" size.
Cohiba is sometimes referred to as "Fidel's find" because Fidel Castro was once intrigued by his bodyguards' "very aromatic" cigar. Soon the special blend was reserved for high-ranking officials and as diplomatic gifts. Cohibas gradually developed a "cult" status.
It was not long after the Cuban embargo that General Cigar registered the Cohiba name in the United States. Many legal battles ensued involving trademark and foreign markets. Still, the precious seeds were smuggled into the Dominican Republic and Honduras and nurtured by experienced tobacco growers who had fled Cuba.
The infamous logo is an Indian head representing an extinct tribe in the West Indies whose language was Taino. The name cohiba is derived from the Taino word for "tobacco".
The easily identifiable logo can be found in scenes from 'Keen Eddie', 'Bad Boys II', 'Into the Blue', 'Psycho' and the pilot of 'Sex and the City'. Rich in history and reputation, today the Cohiba is often referred to in the lyrics of Lil'Wayne, Talib Kweli, Les Claypool and 50 Cent.
This is unique tobacco from the first-class tobacco fields. It undergoes a third fermentation process in barrels, reputed to give it a smoother flavor than other cigars. These cigars tend to be medium to full-bodied.
With a substantial amount of ring gages and lengths, Cohiba also offers a number of aromatic blends in their variety of series. Visitors to CigarFox.com may be interested in La Linea Clasica, La Linea 1492, the Maduro 5 or Edicion Limitada Releases. With names of Lancero, Esplendido, Siglo, and Magicos, it is easy to indulge in the pleasure of a legend.
Featured in the film 'Hotel Rwanda', Paul Rusesabagina has a box of Cohibas specially imported to give as gifts to businessmen and diplomats. He says, "If I give a businessman 10,000 francs, what is that to him, he is rich. But if I give him a Cohiba cigar, that is style."
With roots in the Detroit tobacco industry for more than 50 years, CigarFox.com, owned by the Jenuwine family, recently expanded their business to the digital marketplace where guests create their own cigar collection by mixing and matching specific cigar brands, flavors and sizes. In 2007, the Jenuwine family literally sold more than 900 Million Cigars. Every day at CigarFox.com, visitors can buy cigars individually by the stick and choose from more than 1200 cigars. And, for every five cigars purchased, CigarFox.com gives a 6th cigar free.
About CigarFox:
CigarFox provides you the opportunity to build your own sampler of the finest cigars that include cigar brands like Montecristo, Romeo & Julieta, H Upmann, Macanudo, Cohiba, Partagas, Gurkha and many more. Choose from more than 1200 different cigars! Other cigar products include cigar humidors, cigar boxes, and cigar accessories like Zippo Lighters. For more information, please visit CigarFox.com.
CONTACT: Tommy Paull, CigarFox, PO Box 1467, Troy, MI 48099, news @ CigarFox.com
###