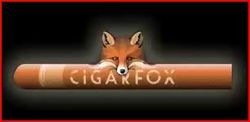 Troy, Michigan (PRWEB) July 9, 2008
CigarFox.com was launched earlier this year by entrepreneur, Dan Jenuwine, to offer more than 1,000 of the most sought after cigars. CigarFox.com announces that the notorious Gurkha cigars are now available for purchase at the website CigarFox.com.
The Gurkha brand, started in 1989 bears the name of a Nepalese tribe who fought for the British in World Wars I and II. At the height of British rule in India, a fondness for this remarkable cigar emerged.
There is a visual intrigue in the bronze wax-sealed glass tube. This smooth smoke will be rewarded by the light finish with a touch of Louis XIII Cognac. The Grand Reserve is one of the highest selling cigars in the humidor.
Gurkha cigars have actually been around since 1887 in one form or another. This longevity has allowed some very interesting combinations to be developed. With fillers, binders and wrappers of Cameroon, Costa Rica, Domincan Republic, Honduras, Indonesia, Nicaragua, and the USA/Conneticut, one is fortunate enough to easily find a personal favorite.
If a full-bodied smoke is preferred, one might try a G3, Estate Selection or Warlord. Available in limited- numbered varnished boxes are the Masters Select and His Majesty's Reserve. With only 1,000 boxes per year in production, The Beast and Titan are a titillating find.
Medium to full bodied smokers are able to choose from the Regent or Vintage Shaggy series. When nothing but a maduro will do, seek the Royal Salute and Grand Age series.
For a mild to medium preference, cigar smokers will be pleased with the ever popular Grand Reserve and Black Beauty. Enjoy the delightful aroma.
Steeped in history, and true to its' roots in faraway India, the legend lives on in the premium cigar known as "Gurkha".
CigarFox.com provides users the ability to create their own cigar sampler by hand-selecting individual cigars and adding them to a box. Website guests have the opportunity to mix and match the specific cigar brands, flavors and sizes that they want; in place of pre-made samplers that contains items the smoker may not wish to purchase. For every five premium cigar singles that are purchased, the visitor has earned a free cigar. Full cigar boxes, cigar tins and cigar accessories are also available at the website.
About CigarFox
CigarFox provides you the opportunity to build your own sampler of the finest cigars that include cigar brands like Montecristo, Romeo & Julieta, H Upmann, Macanudo, Cohiba, Partagas, Gurkha and many more. Choose from more than 1200 different cigars! Other cigar products include cigar humidors, cigar boxes, and cigar accessories like Zippo Lighters. For more information, please visit CigarFox.com.
###