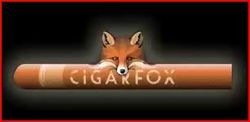 The thing that really makes the consumer come to trust you for life is the care that is taken in the packaging of these fine hand-rolled pieces of art
Troy, Michigan (PRWEB) July 21, 2008
When looking for accurate product reviews, companies often go to the consumer for honest feedback. In the cigar industry that would be the smoker or purchaser of the fine hand rolled tobacco. A new online retailer, CigarFox.com has been receiving positive feedback from customers since its new online store launched April 2008.
One customer commented, "Cigarfox.com is the closest a website could be to a real cigar shop. I will be a customer for life." In addition, CigarFox.com also received outstanding response to a short, 2-question online survey about the website's design and offerings.
CigarFox.com's objective is to breathe new life into the premium cigar industry. The website provides a refreshing way for cigar smokers to buy their cigars one cigar at a time. According to Dan Sr., President of Liaison Sales & Marketing, parent company to CigarFox.com, "The smoker of today doesn't want to be fed some pre-packed deal of the month, with a couple dud cigars mixed in with a couple good ones aiming to move certain inventory. Cigar smokers are individuals who enjoy the opportunity to make individualized choices."
Freshness and quality are two aspects of the cigar business that keep customers coming back time and time again. "The thing that really makes the consumer come to trust you for life is the care that is taken in the packaging of these fine hand-rolled pieces of art," commented Dan Jenuwine, Sr. "The cigar to the roller is like the canvass to painter, the instrument to the musician, the clay to a sculptor, or the infield grass to a grounds keeper at the ballpark. This is why CigarFox.com takes extreme care when packaging orders for our premium cigars."
CigarFox.com provides users the ability to create their own cigar sampler by hand-selecting individual cigars and adding them to a box. Website guests have the opportunity to mix and match the specific cigar brands, flavors and sizes that they want; in place of pre-made samplers that contains items the smoker may not wish to purchase. For every five premium cigar singles that are purchased, the visitor has earned a free cigar. Full cigar boxes, cigar tins and cigar accessories are also available at the website.
About CigarFox
CigarFox provides you the opportunity to build your own sampler of the finest cigars that include cigar brands like Montecristo, Romeo & Julieta, H Upmann, Macanudo, Cohiba, Partagas, Gurkha and many more. Choose from more than 1000 different brands! Other cigar products include cigar humidors, cigar boxes, and cigar accessories like Zippo Lighters. For more information, please visit CigarFox.com.
CONTACT: Tommy Paull, CigarFox, PO Box 1467, Troy, MI 48099, news@CigarFox.com
# # #