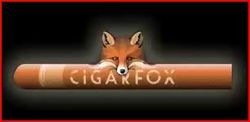 Let us never forget what these brave young men and women do for us each and every day to preserve our freedom
Troy, MI (PRWEB) April 20, 2008
Military troops serving in Iraq and at other overseas bases will be receiving a special care package: 2,900,000 cigars worth more than $200,000. What began as one man's simple act of kindness has grown into a coordinated effort to send a donation of cigars to overseas troops.
Last month in Michigan, Oakland County Sheriff Michael Bouchard announced he was sending 1,500 confiscated, counterfeit cigars to the troops rather than incinerate them. The county's Narcotics Enforcement Team seized the stogies, valued at $15,000, during a traffic stop of a convicted drug felon in January.
Dan Jenuwine, of CigarFox.com, cringed at the thought of troops smoking counterfeit cigars. Upon investigation, it was determined the cigars were not long filled premiums, but rather contained cheap chopped tobacco and fillers. Jenuwine organized a deal with Altadis USA and General Cigar Company, makers of Montecristo, Romeo & Juliet, Cohiba, and Partigas cigars. The companies agreed to replace the confiscated counterfeits with 100 percent genuine long fill cigars. The Sheriff in turn agreed to incinerate the counterfeit cigars.
In addition, CigarFox.com made a donation of 1,700 additional cigars to be sent along with Sheriff Bouchard's cigars from Altadis USA and General Cigar Company to the troops abroad. These cigars were packaged for shipment on April 8, 2008 at the Oakland County Sheriff's Department. Sheriff Bouchard and members of his staff along with assistance from CigarFox.com employees carefully packed the cigars along with humidification packets for shipment.
The efforts of CigarFox.com also garnered a generous donation from Renegade Tobacco of North Carolina. The company donated more than 400 cases of Hombre Little cigars.
While Sheriff Bouchard's 3,700 cigars are already en route to the troops, CigarFox is attempting to coordinate the effort to get the donation of Hombre Little cigars to the troops. Anyone interested in assisting with the logistics and cost of the delivery of these donated cigars can contact news@cigarfox.com.
"Let us never forget what these brave young men and women do for us each and every day to preserve our freedom," said Jenuwine. He also praised Sherrif Bouchard for taking the position to do something good for our troops instead of just destroying the product.
Jenuwine also stated the he realizes that some special interest groups may find the donation of cigars in poor taste. He indicated that this is truly a matter of opinion because over the past years, he personally has sent thousands of cigars to the troops. From the infantry to Special Forces like the Navy Seals, the donations have been warmly received and he has received nothing but messages of appreciation from the recipients. Jenuwine suggests that if anyone thinks differently they should just ask an active military person returning from Iraq or Afghanistan what they think about receiving the donation of cigars.
About CigarFox:
CigarFox provides you the opportunity to build your own sampler of the finest cigars that include cigar brands like Montecristo, Romeo & Julieta, H Upmann, Macanudo, Cohiba, Partigas, Gurkha and many more. Choose from more than 1000 different brands! Other cigar products include cigar humidors, cigar boxes, and cigar accessories like Zippo Lighters. For more information, please visit CigarFox.com.
Contact:
Tommy Paull
CigarFox
PO Box 1467
Troy, MI 48099
###