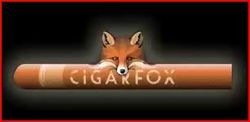 Troy, MI (PRWEB) May 15, 2008
CigarFox.com recently sponsored the annual cigar night fundraiser for St. Sarkis Armenian Church. The April 30, 2008 event was held at the Big Rock Chop House in Birmingham, Michigan. More than 80 guests gathered to raise money for the church by enjoying cigars, dinner and drinks. Upon arrival to the invitation-only event, each participant received four free cigars along with some swag like hats and cigar cutters.
The night began with a silent auction in which bidding was at a flurried pace as always. For every box that would flow off the auction tables, more money would be raised for this worthy cause. The attendees were in stiff competition for some elite brands that CigarFox.com had supplied for the event. It was a flexing match among the super elite of Armenian businessmen in the metropolitan Detroit area. Bidding was followed by dinner and the enjoyment of fine cigars.
A live auction was also part of the event where rare humidors, including replicas of the White House - and wine racks by Romeo y Julieta were also auctioned off. The auctioneer was no other than Cigar Dan himself. That's right, in addition to being the CEO of CigarFox.com, this gentleman also offers his time to charities to help them raise money for their cause. Dan has been doing this for almost ten years now and has developed quite a talent.
Gatherings such as this are common in the cigar industry. In fact, they have earned their own nickname, "Herfs". Whether it is on a golf course, bowling alley, fancy ballroom, or just your backyard, this brotherhood of cigar smokers sure do know how to have a good time.
Tommy Gerjekian, the event coordinator from St. Sarkis Church, pronounced the event another success. Tommy, a local watch retailer at Diamond Crown watch company in Troy, Michigan, has been putting the event on four eight years now. With every year the event gains popularity and hype. Cigar smokers are a loyal group, they keep returning for this great cause. In the short four hour event, more than $6000 in cigars were sold. CigarFox.com looks forward to helping out again next year with new ideas and additional boutique items for auction. Congrats Tommy and St. Sarkis for another great year.
About CigarFox
CigarFox provides you the opportunity to build your own sampler of the finest cigars that include cigar brands like Montecristo, Romeo & Julieta, H Upmann, Macanudo, Cohiba, Partigas, Gurkha and many more. Choose from more than 1000 different brands! Other cigar products include cigar humidors, cigar boxes, and cigar accessories like Zippo Lighters. For more information, please visit CigarFox.com.
CONTACT: Tommy Paull, CigarFox, PO Box 1467, Troy, MI 48099, news(at)CigarFox.com
###