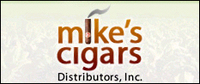 Miami, FL (PRWEB) July 10, 2008
Mike's Cigars Distributors is announcing an improved feature on their website, the electronic coupon. When buyers purchase select cigars or other cigar accessories they can accumulate coupon dollars on their accounts that can be used on future purchases to receive discounts. Some cigar specials will advertise to receive, for example, a $10 coupon, which will be added to the buyer's account after the checkout process. The user can go back and purchase more cigars and cigar accessories associated with the electronic coupon specials and can accumulate more coupons in their account. If they buyer wants to apply previous coupon dollars to a purchase, he/she can enter the amount in the checkout process. These electronic coupons never expire and are great for both new and returning customers looking to save money on brand name cigars.
Mike's Cigars was founded in 1950 at 465 Arthur Godfrey Road in the heart of Miami Beach, Florida. They are now one of the largest cigar distributors and ship all over the world. Mike's Cigars carries over 1000 different brands, including its flagship Licenciados, Bauza and 898 Collection. In 1993, Cigar Aficionado gave the Licenciados Toro, Mike's top-selling brand, the highest rating ever given a non-Cuban cigar. In addition to its flagships, the company stocks about 10 million cigars in its inventory on any given day.
Sign up to receive weekly cigar specials delivered to your email! Visit our website to see details.
###