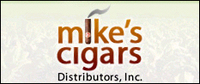 Miami, FL (PRWEB) August 18, 2008
Mike's Cigars, a major cigar distributor in Miami, Florida, is now offering personalized cigar bands that are professionally die-cut and digitally custom printed. Using cutting-edge digital graphics, you can have highly impressive, die-cut glossy cigar bands made to express absolutely anything you want. Mike's Cigars offers standard template bands or customized bands.
This new online feature allows you to browse their artwork database and choose which band suits your occasion. Once a band design has been chosen, you can then customize the colors and text. When the order is complete, Mike's Cigars will print and wrap the bands then send them elegantly packaged in a cigar box ready for your occasion. Rush shipping is also available if the cigars are needed within a deadline.
Whether you want to brand your business or create exquisite party favors, Mike's Cigars will be able to personalize your cigar bands however you want. Personalized cigar bands are a perfect way to make a statement.
Mike's Cigars is both a retail and online cigar distributor with headquarters in Miami, Florida. Having been in business since 1950, you can ensure that you will be receiving only the best of the best when ordering with Mike's Cigars. They are now one of the largest cigar distributors and ship all over the world. Mike's Cigars carries over 1,000 different brands and the best cigar prices, including its own brand, Mike's 1950.
Visit Mike's Cigars Distributors and sign up to receive weekly cigar specials delivered to your inbox.
###