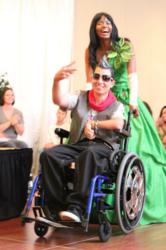 Independence on the Runway is really about breaking down barriers, creating awareness and boosting the confidence levels of those who have heard the words 'you will never be able to' their whole lives - Tia Frost, Ms. Florida Plus America
Ft. Lauderdale, Florida (PRWEB) May 10, 2013
Out of the 1.8 million residents who live in Broward County, nearly one-in-five age five and above has a disability. This shocking statistic is the motivating force for Ms. Florida Plus America 2011, Tia Frost, and the Center for Independent Living of Broward to host "Independence on the Runway – No Limits", a fashion show for youth with disabilities on Sunday, May 19, 2013 from 3 p.m. to 6 pm. at the Bonaventure Resort & Spa (250 Racquet Club Road, Weston, FL) benefiting the Center of Independent Living of Broward.
"Awareness leads to acceptance – it's that simple," states Frost. "Independence on the Runway – No Limits" is really about breaking down barriers, creating awareness and boosting the confidence levels of those who have heard the words 'you will never be able to' their whole lives."
In its second year, "Independence on the Runway – No Limits" is gaining national attention due to the success of one of last year's models, Corey Sticco. At age 7, Sticco was diagnosed with a rare double-headed astrocytoma (tumor) located in his brainstem. After two brain surgeries, eye surgeries, chemotherapy, living as a paraplegic and being revived from death, Corey is now 21 and cancer free.
While Corey is mobile through the use of a custom wheelchair, has use of only his right arm and uses a service dog to help him with his independence, Corey was selected by a modeling agency to appear in a national campaign after last year's Broward-based runway event.
"The agency chose Corey based on his amazing smile," states Frost. "In addition to this national campaign, Cory was chosen to be in a mural that will be displayed in the White House with President Obama."
"Independence on the Runway – No Limits" is a family-friendly event that gives everyday children and adults who have disabilities the opportunity to build confidence and self-esteem while showing their personality, individuality and creativity on the runway. Tickets are $15 in advance and $20 at the door – visit http://www.cilbroward.org to purchase tickets of for more information call (954) 722-6400 or TTY (954) 735-0963.
Corey Hinds, the Center for Independent Living of Broward's Executive Director is confident that this year's event will exceed expectations. "In its inaugural debut, more than 400 people attended last year's "Independence on the Runway-No Limits" event and we are expecting to draw a larger crowd this year."
One Center for Independent Living employee, Yessenia Leyva, who was born with a disability and has been the backbone of executing this event, summarizes her efforts by stating, "My hope is our kids will learn the skills necessary to break down society's stereotypes of what people with disabilities can achieve."
About the Center for Independent Living of Broward (CILB)
The Center for Independent Living of Broward is a 501 C3 non-profit organization whose mission is to offer assistance to people with disabilities in fulfilling their goals of independence and self-sufficiency. The CILB provides services to assist persons with disabilities with independent living, housing, transportation, employment, access to technology, and physical access to public and private facilities as the means to achieving a quality of life.