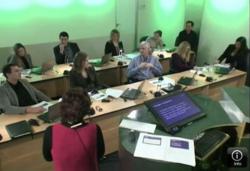 Preparing effectively for exams or assignments doesn't start on the day when you first receive the case study or look at the assignment. It starts on the day that you first start studying the subject.
(PRWEB UK) 22 June 2011
Taking exams has never been an easy task, but if your exams are also related to your marketing career, the sensation of not making it can be overwhelming.
To help give you the confidence you need to transform your experience in a winning result, Oxford Learning Lab, the leading marketing training video provider have created a new series of instructional material.
Conceived in collaboration with the prestigious Oxford College of Marketing, the videos will help students to understand the requirements of the CIM exams before starting the course. They will also help to clarify the student understanding on how to meet the requirement of the examiners. The videos cover the Introductory Certificate, Professional Diploma in Marketing and the Professional Post Graduate Diploma in Marketing.
Aimed at existing CIM students who wish to increase their understanding of how to pass the exams the CIM exams revision series provides high quality, flexible learning, round the clock, for the fraction of the cost of an instructor-led course .
It will also help prospective students understand the content of the courses before they even start to study.
All the Oxford Learning Lab online marketing courses feature highly trained marketing professionals, including authors of popular marketing books, and most of the speakers collaborate in some way with The Chartered Institute of Marketing. The product is endorsed by Oxford College of Marketing, one of the largest providers of The Chartered Institute of
Marketing courses, who use a selection of them on all their courses.
http://www.oxlearn.com/courses.php?start=8
Notes for editors
Oxford Learning Lab is an independent digital publisher that works with marketing experts to create a video marketing portal for marketing strategy excellence. Its videos are streamed directly and available on demand. Oxford Learning Lab collaborates with leading institutions to create a product useful to professional marketers, consultants, students and businesses. It brings top business school professors and trainers to the client through a comprehensive series of marketing videos. The featured speakers work in MBA and university programmes with establishments such as Wharton, Madrid, Cranfield, Warwick, Aston and Portsmouth, as well as consulting for FTSE100 and Fortune 500 companies.
The company is based in Oxford.
###