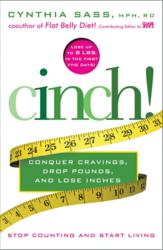 The plan calls for four satisfying meals a day. There is even a daily serving of dark chocolate—mandatory.
San Francisco, CA (Vocus/PRWEB) December 23, 2010
CINCH! Conquer Cravings, Drop Pounds, and Lose Inches (HarperOne; $25.99; January 1, 2011; ISBN: 978-0-06-197464-9) can profoundly improve fitness and wellness in just 30 days. It combines dramatic short-term weight loss results—up to eight pounds in five days—with a 25-day uniquely simple nutrition program that produces sustainable weight loss without calorie counting or relying on complex charts. The plan calls for four satisfying meals a day. There is even a daily serving of dark chocolate—mandatory.
CINCH! establishes order to end diet chaos—irregular meal schedules, binge eating, and so on—but as Cynthia writes, "You won't feel like you're in diet boot camp….Unlike many weight loss plans, my approach isn't about starving, restricting, or depriving yourself. It's all about giving your body precisely what it needs to get to your ideal weight and feel absolutely amazing every step of the way."
CINCH! is a 30-day plan in two parts. Part one is a 5-Day Fast Forward option that jump starts results. It calls for four simple meals a day, made from just five foods: spinach, almonds, raspberries, eggs, and yogurt (or vegan-friendly alternatives). Cynthia selected these foods because each is filling, rich in detoxifying and health-protecting nutrients, and has been scientifically shown to specifically support weight loss. Using these five superior foods in various combinations daily for five days gives the body, mind, and taste buds a fresh start and will help shed up to eight pounds quickly.
Part two is a 25-day plan (30 days without the Fast Forward option) which also calls for four meals a day, but now draws from a broad but specific array of food choices. And, with this part of the plan, it becomes easy to drop a size in just one month. Cinch! Core is based on cutting edge research and three key rules that work in synergy to provide real and lasting results:

Rule #1: Eat Like Clockwork. Meal timing is important—breakfast must be eaten within an hour of waking up and the remaining meals must be spaced evenly throughout the day, no sooner than three and no more than five hours apart, in order to regulate blood sugar and insulin levels and hunger hormones; reset and rev up metabolism; and keep feeling energized.
Rule #2: Think 5 Pieces 4 Times a Day. Each meal in the CINCH! plan is constructed as a unique "puzzle" made from five pieces: produce, a whole grain, lean protein, plant-based fat, and specific seasonings—or, as Cynthia refers to them, S.A.S.S. (more about that below). "The precise puzzle configuration¬¬—strategic amounts of each of the five pieces—is a fundamental part of why this plan is so effective," Cynthia says. "That's because I calculated the ideal amounts from each of the most effective foods needed to whittle away body fat while still allowing you to feel full, satisfied, energized, and nourished." Following the plan is as easy as knowing what the five pieces of the puzzle are and how much of each one to include at every meal, which becomes second nature to Cinch! followers within the first week. This simple approach makes this plan a Cinch! at home, at restaurants, or on vacation.
Rule #3: Make Flavor the Focus. S.A.S.S.—the fifth piece of the puzzle (above)—stands for Slimming and Satiating Seasonings: vinegar, citrus juice or zest, hot peppers, tea, and herbs and spices. These five elements not only add flavor to the meals without excess calories or sodium, they are scientifically proven to maximize your body's fat-burning abilities and are rich in antioxidants, which have been linked to lower body-fat levels, even without dieting.
"I've never believed that losing weight means sacrificing the flavor and enjoyment of food," Cynthia says. CINCH! is packed with delicious recipes (many of them interchangeable), and readers can choose from among 100 meals that follow the puzzle principle, including vegan and vegetarian variations. There is even a chapter that explains how to use the puzzle concept to create original meals, as well as information about making take-along packs so readers can follow the plan anywhere.
Cynthia also includes a 5-Day Food Diary as an essential part of the CINCH! plan, to help track not only food intake, but also feeling, physically, and emotionally. "The brief 'homework' assignments contained in the diary will begin to untangle the 'whys' of your eating—why you have been eating too much or making poor food choices—along with your social and emotional connections to food," Cynthia writes. "Answering these questions thoroughly and truthfully will form the real groundwork for change." The book also includes chapters devoted to emotional eating, falling in love with walking, and the weight loss role of daily dark chocolate!
CINCH! teaches the clear-cut, sustainable secrets to weight loss success, to regain fitness, and refocus attention and energy where they should be—on living and enjoying life.
About the Author: Cynthia Sass is one of the first registered dietitians to become Board Certified as a Specialist in Sports Dietetics (CSSD). She is the nutrition consultant to the New York Rangers and the Tampa Bay Rays, and counsels professional athletes in numerous sports. Cynthia is the nutritionist behind and coauthor of the #1 New York Times bestseller Flat Belly Diet. She developed the eating plan for Prevention based on a combination of emerging research and over 10 years of experience as one of America's most recognized nutritionists. She is also the coauthor of the relationship book Your Diet is Driving Me Crazy: When Food Conflicts Get in the Way of Your Love Life and the Ultimate Diet Log. Cynthia's Weight Loss Coach column each month in SHAPE magazine and her new Weight Loss Coach blog appears on SHAPE's web site. Visit Cynthia online at http://www.cynthiasass.com.
# # #