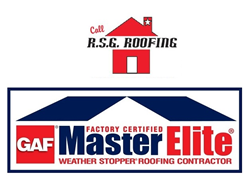 As GAF Master Elite Certified Roofing Contractors, RSG Roofing provides its customers in the Cincinnati area with the highest quality products and exceptional services at the industry's most attractive prices. – Richard Moser, President, RSG Roofing
Cincinnati, OH (PRWEB) July 11, 2016
RSG Roofing (http://www.ohroofingcompany.com/) receives the country's highest roofing industry honors - GAF Master Elite Roofing Contractor Certification, ranking the Cincinnati contractors in the top three percent of roofing professionals in the nation. Earning GAF Master Elite Roofing Contractor Certification means adherence to GAF's rigorous standards which include apt state licensing and insurance, an impeccable reputation, and a constant commitment to technical training. With GAF Master Elite Certification also comes the extended, extensive warranties on material and labor – a bonus for Cincinnati customers.
"As GAF Master Elite Certified Roofing Contractors, RSG Roofing provides its customers in the Cincinnati area with the highest quality products and exceptional services at the industry's most attractive prices." – Richard Moser, President, RSG Roofing
In addition to GAF Master Elite Roofing Contractor Certification, RSG Roofing is Better Business Bureau A+ accredited and featured on Angie's List with excellent customer reviews. RSG Roofing delivers premium roofing services to the greater Cincinnati region including Bridgetown, Delhi, and the surrounding areas. Across the region, RSG Roofing promises unmatched service performed by well-qualified professionals at competitive prices. In addition to outstanding Cincinnati roofing services, RSG Roofing offers premium services including siding, gutters, and windows.
"When homeowners need to have their roofing system taken care of, they want to work with experts they can count on and RSG Roofing is that company - fully dedicating themselves to any task, and guaranteeing customer satisfaction along the way." – Richard Moser, President, RSG Roofing
RSG Roofing was founded by Richard Moser with the commitment to high quality workmanship and customer satisfaction, both of which have spurred RSG's growth through the years. Believing a successful business is driven by satisfied customers, RSG Roofing strives to exceed expectations on every project.
Richard is a GAF certified professional, and he is committed to high quality workmanship. His vision and emphasis on customer satisfaction has helped RSG Roofing continue to grow and thrive through the years. Richard believes that any successful business is driven by happy customers. Under his leadership, RSG Roofing is ready to keep exceeding customer expectations.
About RSG Roofing
RSG Roofing proudly serves the greater Cincinnati area including Bridgetown and Delhi with premium quality roofing products and services as well as installation and repair of siding, gutters, and windows. With an understand that customer satisfaction, high quality craftsmanship, and superior products are the top priorities, RSG Roofing stands behind each project with an unparalleled satisfaction guarantee.
RSG Roofing LLC, 5648 Eula Ave, Cincinnati, OH 45248 - http://www.ohroofingcompany.com/ - Phone: (513) 235-8823 Fax: (513) 574-1568