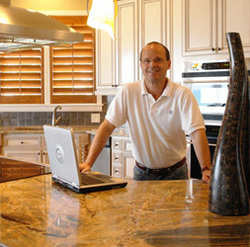 "Cincinnati real estate has always seemed to escape the dramatic boom bust cycles that devastate other parts of the country." - Andrew Howe, Cranewoods Development
Cincinnati, OH (PRWEB) February 25, 2010
Andrew Howe of Cranewoods Development gives local confirmation that Cincinnati is one of the "10 cities for real estate steals" as recently reported in U.S. News and World Report. Citing stable values during the recent boom and bust and a firm price to income level, Howe says, "Cincinnati real estate has always seemed to escape the dramatic boom bust cycles that devastate other parts of the country." While the article predicts further price drops, it anticipates a bottoming in 2010 setting the stage for future appreciation.
Howe, a Cincinnati real estate development consultant and a successful developer and general contractor for markets in Ohio and Florida for over thirty years, transformed his firm into a development consultancy using his expertise in development, construction and finance to assist lenders and development groups in resolving problem projects and loans. Cranewoods primarily serves the Greater Cincinnati area and Florida's Eastern shore.
Unlike Florida, Howe stated, "Cincinnati's real estate stability moderates development profits in great years, but also limits the pain on the downside." While Cincinnati has dodged the brunt of the crash, both lenders and developers have still been faced with stalled projects and loan defaults. The stabilization of the housing market has followed the same pattern as many other parts of the country, with the under 300k housing prices leading the market in sales. Although sales prices are at discounts to where they were in 2007-2008, the fact that there was an increase sales transactions during the second half of 2009 and 2010 is a positive sign for absorbing inventory, the first step in a market bottom and eventual recovery.
Howe points to downtown's loft projects as a prime example. "Cincinnati's loft condominiums in the under $300k range that are well designed and well located are starting to sell again," Howe said, pointing to Hamilton County tax records showing a surge in downtown loft sales beginning in the 3rd quarter of 2009. "The real estate cycle will turn around as they all do. It's a matter of survival while the market takes the necessary steps to recover."
For many developers, survival means renegotiating loan terms with bank Special Assets Departments to get the breathing room they need to navigate the market. For lenders with defaulted loans and REO (Real Estate Owned) it means realistically managing the credit and assets to maximize value and minimize negative balance sheet impacts. Howe uses his expertise in both areas to help banks and developers navigate their projects, waiting for the market's return to normalcy.
About Cranewoods Development
Andrew Howe, President of Cranewoods Development, is an award winning developer, general contractor and real estate consultant with over 35 years experience. Cranewoods offers full service real estate consulting to lenders and investors. Services include: development consulting, bank loan workout solutions, court appointed receiver, turn-key development management, construction management and general project problem solving. To explore Cranewoods further, visit: http://cranewoods.com or follow them on Facebook at http://Facebook.com/CranewoodsDevelopment
Jacksonville, FL | Cincinnati, OH.
PH: 513-257-0749 | 904-758-3434
# # #