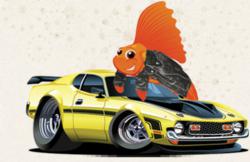 I'm as guilty as the next guy for celebrating a holiday that I didn't 100% know the origin of.
Los Angeles, CA (PRWEB) May 04, 2012
RoadFish.com men's lifestyle and finance magazine today drew attention to the reason for the season, if you will, or the factual and actual historical event for which Cinco de Mayo became a cause for celebration. Though Americans spend big money every May 5th on Mexican beer, tacos and sombreros, the details surrounding the true origin of the holiday are seemingly unclear to most.
According to William Booth of the Washington Post, most Americans tend to be fairly unclear regarding the details behind the celebration of Cinco de Mayo, Spanish for "the 5th of May." Booth is quick to dispel the common misconception that Cinco de Mayo is not, in fact, the Mexican equivalent of America's "Fourth of July." The Mexican Independence Day is actually celebrated on September 16th each year, and is commemorated by the Mexican president ringing a bell and waving a flag atop the National Palace's balcony to the hearty cheers of "Viva Mexico!" from the crowd below.
Booth reveals the true event that sparked an annual celebration on May 5th, which was a triumphant victory by the Mexicans against the French during the Franco-Mexican War. General Ignacio Zaragoza, described as a brave and young Mexican general, led the Mexican forces to defeat the French, despite being vastly outnumbered, at the Battle of Puebla. In actuality, Booth reports that Mexicans do not tend to celebrate the date very much, and certainly nowhere near as much as Americans do.
RoadFish.com's Senior staff writer is quoted saying, "I'm as guilty as the next guy for celebrating a holiday that I didn't 100% know the origin of. And throughout the course of many Cinco de Mayo's, friends and relatives of mine have all offered various and wildly different explanations for the celebration, so I decided to put the spotlight on this seemingly misunderstood but well-loved holiday and hopefully spread the word about what it really is that we're celebrating!"
An earlier Washington Post article also written by Booth stated that Mexicans celebrate the holiday in a more "sober" way. You're not likely to see beer, sombreros and nachos as prevalently as you would in the typical American slant on the holiday. South of the border, Mexicans reenact the battle, including a cavalry charge and machete "mano a mano" (hand-to-hand) combat, and commemorate the day with canon fanfare.
Likewise, History.com confirms that Cinco de Mayo is a relatively minor holiday for Mexicans, whereas in the US the holiday has developed into an overall celebration of Mexican culture. History.com states that in Mexico, Cinco de Mayo is mainly celebrated in Puebla, the Mexican state where General Zaragoza's victory is said to have taken place. Although festivities include military parades and the Battle of Puebla reenactment, it is not considered a federal holiday, so businesses and banks do not take the day off.
About RoadFish
RoadFish.com is an online men's lifestyle and finance magazine targeted toward men in their 30s and 40s that have already attained a moderate level of success in life, and are striving toward more. It goes over current events of interest to this group, such things as exciting adventures, making money, consumer interests, hot chicks, and the latest news about credit and loans as well as ways to make more and save more money. It is a publication owned by Purpose Inc.
###