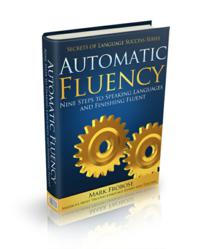 It is shocking for some to learn that 'Cinco de Mayo' is not Mexico's Independence Day, states Frobose, author of 'Automatic Fluency'
(PRWEB) May 04, 2011
"Cinco de Mayo is absolutely the world's most misunderstood holiday" says Mark Frobose, prolific multilingual author and creator of a bestselling foreign language series called 'Secrets of Language Success' now available on Amazon.com Kindle.
For a limited time, Mark Frobose is offering free Spanish lessons on his website http://www.frobose.com. His books and language courses are available everywhere and online at http://www.amazon.com.
Frobose. author of the runaway bestseller 'Think and Grow Fluent' states "Contrary to popular belief, Cinco de Mayo is not Mexico's Independence Day." "Cinco de Mayo means '5th of May' in English and it is actually not a national Mexican holiday at all, but rather an American Civil War holiday," he says.
The Cinco de Mayo Civil War holiday was created spontaneously by Mexicans and Latinos living in California who supported the fragile cause of defending freedom and democracy during the first years of America's bloody War Between the States
"It is shocking for some to learn that 'Cinco de Mayo' is not Mexico's Independence Day." states Frobose, author of 'Automatic Fluency' who himself is fluent in Spanish and six other languages.
"Their Independence day is actually celebrated on September 16th and is Mexico's most important national holiday."
May 5th actually memorializes an unexpected Mexican army victory over occupying French forces in 1862, but Cinco de Mayo is known today for its colorful celebration of Hispanic culture. In fact, Cinco de Mayo is celebrated far more in the U.S. than in Mexico, where it's only a regional holiday in the southern Mexican state of Puebla, where the actual battle occurred.
Cinco de Mayo is observed nationwide here in the United States as a celebration of Mexican heritage and pride, gringos and non-Hispanics love to join in the fun and celebrate too.
###