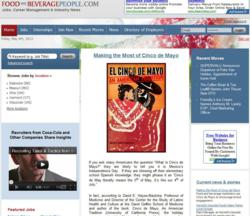 Princeton, N.J. (PRWEB) May 04, 2012
Growing interest in Cinco de Mayo, the celebration of the Mexican Army's unlikely 1862 win over the French at the Battle of Puebla is cause for celebration throughout the United States. With Cinco de Mayo falling out on a Saturday this year, restaurants, food and beverage marketers of every size are joining in the celebration and working to engage consumers in their brand.
As part of the website's ongoing commitment to educate food and beverage professionals on best practices for building brands and growing professionally within the food and beverage industry, FoodAndBeveragePeople.com has published this week's feature story, Making the Most of Cinco de Mayo.
The article reviews how smart food and beverage companies of every size are promoting ways to celebrate the holiday in an effort to engage the audience and ensure their brands are invited to the party.
About: Food And Beverage People Media Group, LLC which includes FoodAndBeveragePeople.com and the weekly industry newsletter, News Kernels, is dedicated to career minded individuals who work in or desire to work in the U.S. food and beverage industries. The website and weekly recap features content geared for professionals at every stage of their career including the latest industry news, promotions retirements, job listings and industry trends; helping industry professionals grow into industry leaders. To subscribe to the free weekly industry newsletter, News Kernels visit Facebook or http://www.FoodAndBeveragePeople.com