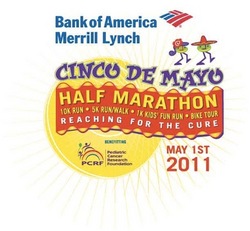 We band together that weekend to celebrate and remember everyone who has been affected and to make a difference for the future. We are energized and ready for another fantastic event in 2011. ~ Nancy Franks, PCRF Executive Director
Irvine, CA (PRWEB) April 8, 2011
The Pediatric Cancer Research Foundation (PCRF) announced the official sponsors for the annual run/walk fundraising event that will take place on May 1, 2011. Bank of America Merrill Lynch is the official title sponsor of the event.
Sponsors include p11creative for the 10K Run; Irvine BMW for the 5K Run/Walk; Cox Communications for the Kids' Fun Run; BJ's Restaurants for the Bike Tour; OC FAMILY for the Kids' Fun Zone; Doubletree Irvine Spectrum is the Host Hotel; adidas for the VIP Training Program; 24 Hour Fitness as the official fitness sponsor; and Dave & Buster's for the VIP Area at the finish line festival.
Corporate Sponsors include: DLA Piper; Shulman Hodges & Bastian, LLP; JLC Associates, Inc.; LBA Realty; Ralphs; Snyder Langston; and Taco Bell.
Other sponsors include: Joyce Thurber (Friend of PCRF); AMPCO System Parking (Goodie Bag); HBC (Race Bibs); and Administaff.
Classic Sponsors include: Corner Bakery; Jb3d, Gensler; J.L. Patterson; Haskell & White; and Matt Construction.
Rainbow Sponsors include: Chicago Title; Ernst & Young; MHP; Straub; LPA; and Universal Protection Systems.
Product/Service Sponsors include: Two Wheels One Planet; Pop Chips; PRE; Irvine Spectrum Center; Renegade Racing; Clif Bar; and Competitor.
"There are many exciting changes in the 2011 event, including the addition of the VIP Training Program presented by adidas and the BJ's Restaurants Bike Tour. This event continues to grow each year. We are grateful to Bank of America Merrill Lynch, and other sponsors, for their support and assistance bringing awareness throughout the region." -- Nancy Franks, Executive Director, PCRF
Our volunteer committee works closely with PCRF's staff to bring fresh elements to this annual event. We are always mindful of the mission of this organization, which is to raise money to fund research to cure pediatric cancer. People want to be involved in this effort and make a difference in a child's life. The team support we receive is outstanding. Many teams rally behind a child cancer survivor or one who is currently undergoing treatment. Some teams are participating in memory of a child who was tragically lost to this horrible disease.
Event Information
The 2011 Bank of America Merrill Lynch Cinco de Mayo Half Marathon and 10K Run, 5K Run/Walk, 1K Kids' Fun Run and Bike Tour
May 1, 2011
6:00 am – 1:00 pm
Irvine Spectrum Center
(Race located on Gateway between Alton and Irvine Center Drive)
71 Fortune Drive
Irvine, CA 92618
Once again sponsors, walkers, and runners will join PCRF in helping fund research that will find a cure for pediatric cancer. This wonderful community event will have all of the fun that runners have come to know and love. In the Half Marathon, runners will travel through Irvine's beautiful tree-lined running and biking trails, parks and lakes. Participants and spectators will enjoy live mariachis and traditional Mexican dancers, interactive video game truck, rock climbing wall, kids bounce houses, train rides, caricature drawings, balloon art, Pretend City Children's Museum, an expo and tons of free food & drinks.
PCRF is offering special pricing now through April 15, 2011 (see website for details: http://www.cincodemayohalfmarathon.org).
# # #