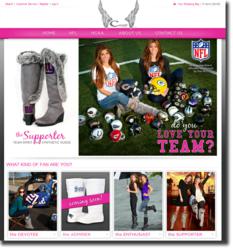 "At CINIVA Web Agency, we support the small business with big ideas, and that's what attracted us to the Cucé Shoes project,"
Virginia Beach, Virginia (PRWEB) September 29, 2011
When sisters Kathleen and Kristina Cucé observed the absence of comfortable logoed footwear for female college alumna, they formed their business, Cucé Shoes, to offer women fun and fashionable footwear choices emblazoned with the logos of their favorite collegiate and professional sports teams. Founded in Virginia Beach in 2010, Cucé Shoes became an immediate hit among those with ties to select Virginia colleges, and since then, the identical twin entrepreneurs have expanded their inventory to include a variety of boots bearing logos officially licensed from the National Football League.
To accommodate the growing demand for their inventory, the Cucé Twins turned to CINIVA Web Agency, a leader in Web design and development for the Mid-Atlantic region, to build their e-commerce website. Visitors to http://www.lovecuceshoes.com can browse the initial four styles of shoes – from faux-fur knee-high boots to durable rain boots – across the entire selection of NFL teams and select NCAA logos.
The custom e-commerce website developed by CINIVA combines an efficient and user-friendly layout with a stylish design befitting the fashionable shoes sold on the site. Navigation is clear and simple, allowing shoppers to easily search by favored team or across product styles. By embracing a minimalist design free from the clutter of many other major shopping sites, Cucé Shoes is able to focus on providing a stellar customer experience and innovating new product lines.
"At CINIVA Web Agency, we support the small business with big ideas, and that's what attracted us to the Cucé Shoes project," said Steve Van Leeuwen, President of CINIVA Web Agency. "The Cucé sisters have a great product and the savvy to market to a growing demographic, female sports fans. The site we created for their business allows customers to easily shop by style and team."
In addition to the officially licensed NCAA and NFL merchandise available on site, Cucé Shoes also plans on offering special Breast Cancer Awareness footwear designed with the NFL logo and pink ribbon symbols. Plans are also in motion to distribute a line of boots for fans of the National Hockey League. Cucé Shoes are also available wholesale for interested retailers of ladies' and collegiate/sports apparel.
About Cucé Shoes, LLC
Cucé Shoes was founded in 2010 by identical twins Kathleen and Kristina Cucé. Cucé Shoes offers a growing selection of stylish women's footwear especially designed for fans of the NFL and select NCAA teams, including Old Dominion University, Virginia Tech, James Madison University, Arizona State University, North Carolina State, and Iowa State.
About CINIVA Web Agency
CINIVA Web Agency, founded in 1998, is one of the Mid-Atlantic region's leading website design, business development, and Internet marketing organizations. They have designed more than 500 Web sites, specializing in e-commerce, custom programming, search engine optimization, social media, and online advertising for businesses and non-profits across the United States.
###