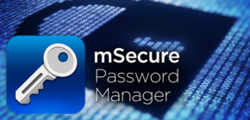 "mSecure Password Manager provides a safe place to store your sensitive passwords, acting as a vault for all of your login information.", Armando Rodriguez, author, CIO.com
Portland, Oregon (PRWEB) July 12, 2012
mSeven Software's mSecure Password Manager for iOS and Android has been selected by CIO.com as one of five business apps it recommends to Chief Information Officers (CIOs) and IT professionals. CIO, a leading IT newspaper and website serving chief information officers and other IT leaders, recommended mSecure as part of its feature article, "Best Apps of 2012: Top Business Apps for Android and iPhone."
"Security is a major concern for any business, especially when it comes to safeguarding passwords," said Armando Rodriguez, author of the CIO.com article. "mSecure Password Manager provides a safe place to store your sensitive passwords, acting as a vault for all of your login information."
In his article, Rodriguez also praised mSecure for the way it keeps stored data encrypted and locked away from prying eyes, plus its ability to back up the data to mSecure's cloud using its Security Everywhere™ architecture.
"The app also provides a built-in password generator for locking down your online accounts more effectively," said Rodriguez.
The CIO.com article also recommended such apps as Google Drive, Business Calendar, LinkedIN and GoodReader, among others.
"mSecure is in great company with other important business apps recommended by CIO.com," said Ray Marshall, president of mSeven Software. "mSecure continues to be held out as the industry-standard among every-day users and IT pros for password and personal information protection."
About mSecure
mSecure is the leading password manager and digital wallet application for iPhone, iPad, Android, Mac and Windows. mSecure uses the ultra-secure 256bit blowfish encryption to protect personal information such as account numbers, usernames, passwords and more. mSecure is a digital wallet in that it provides 17 popular personal information templates with the ability to create custom templates. mSecure supports the syncing of user data via the company's Security Everywhere architecture.
mSecure for Android is available in the Google Play, Amazon App, AndroidPIT, Verizon and Nook stores for $9.99. mSecure for iOS is available via the iTunes App Store as a Universal app for iPhone, iPad and iPod Touch for $9.99.
mSecure for Mac OS is available in the Mac App Store for $19.99 and mSevenSoftware.com, where the Windows version is also available, both for $19.99 each. A $5 off coupon for mSecure MacOS/Windows is available to mSeven Software Facebook fans (not applicable on Mac App store). Details on this special offer can be found on the company's Facebook page at http://facebook.com/mSevenSoftware.
About mSeven Software
Based in Portland, Oregon, mSeven Software has developed and supports mSecure and several other applications for the iOS, Android, Mac OS and Windows platforms. As a leader in the productivity category, mSeven Software operates on the principle that useful software is "made simple for everyday users."
For more information:
Contact: David Pfeiffer
Phone: 262-968-1940
Email: dave(at)msevensoftware(dot)com
Web: https://msevensoftware.com/press
Video: http://www.youtube.com/v/mmVQb9NIxHE?rel=0
Google, Google Android, Apple, iPhone, iPad, iPod and Windows are either registered trademarks or trademarks of Google, Apple and Microsoft Corp. respectively in the United States and/or other countries. mSecure, mGifts, mSevenSoftware, Security Everywhere are trademarks of mSeven Software.