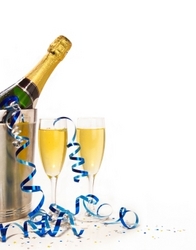 Washington, DC (Vocus) December 19, 2009

Washington, DC (Vocus) December 18, 2009 -- Washington D.C.'s Circle Bistro will be hosting an exclusive New Year's Eve dinner party on December 31st, offering a choice of two dining times, either from 5pm for the pre-theater pre-fix menu with a choice of any appetizer, entrée and dessert from the a la carte menu and decadent, succulent specials, paired with a glass of champagne, all for $45! Or come along at 8pm, ready to party and see in the New Year, indulge in the luxurious menu offerings, and relish in the excellent wine selections. In addition to the usual wine list, Circle Bistro will be offering all guests the "Sparkling Lovers Selection" which is a great selection of champagnes and sparkling wines, available for New Year's Eve only!
Reservations are required for this very limited availability evening. Please either call on 202-293-5390 or email FandBdirector@thecirclehotel.com and make a reservation. Remember to specify a time preference – the earlier booking times are reserved for diners who will be leaving for theater performances. A credit card is required for all reservations; unfulfilled reservations will incur a $50/person charge.
Circle Bistro look forward to welcoming in 2010 with its valued guests! Happy Holidays from Circle Bistro!
###