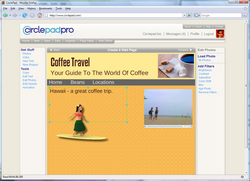 I needed a website, but didn't want to pay thousands of dollars for someone else to build it. I joined CirclePad and built a site in less than four hours
Los Angeles, CA (PRWEB) July 16, 2008
Today CirclePad launched a new online web-builder that anyone can learn to use. CirclePad provides web users with a fast, easy and fun way to design web sites, pages with video, and graphics for the Internet.
CirclePad is the world's first web site editor to give you direct WYSIWYG (what-you-see-is-what-you-get) control over your page. It includes professional page editing and graphics tools that in the past could only be found in expensive dedicated tools.
"I needed a website, but didn't want to pay thousands of dollars for someone else to build it. I joined CirclePad and built a site in less than four hours," says Paul Manley, founder of Apple Seed Learning. "CirclePad let me adopt my own look and feel and it was easy to get my
ideas up and running on the web right away."
And about the cost: "The price was so low that it made the decision a no-brainer. I was quoted $2600 for a simple three-page site, and with CirclePad I got exactly what I wanted for $96."
Frustrated users often perceive that they need to take courses on web technology, learn html and/or rely on technically oriented friends for help. Because of these barriers, huge numbers of web projects are left unfinished; domain names are never used; and spelling and language-use mistakes sit unattended on web sites for years.
CirclePad breaks through this technical barrier by giving web users and small-business owners what they need; and that is complete control and self-styled customization without technical wrangling.
CirclePad is the perfect tool for building, rebuilding and editing. Changes when made are immediately live to the world with a single click on the save button.
CirclePad includes:

Web Page Features: A CirclePad Site includes a domain name and 10 email addresses. CirclePad lets individuals create multiple pages that can be linked together with navigation or hyperlinks. Pages can easily be resized, added, saved or deleted as needed.
Video: CirclePad makes it easy to place video on your pages. Video can be scaled, combined with graphics and tuned with many filters.
Simple Graphics: With one click, users can save or upload a web page and photos, or change colors, patterns and backgrounds. Dragable text has powerful editing features like alignment, transparency and many fonts.
Graphics Editing: Users can add exciting visual effects to objects like drop shadows and blurs, or overlap graphics. CirclePad is also one of the first web applications to support "Undo" and "Redo".
Photo Editing: With a few easy clicks, users can change the brightness, contrast or saturation of photos, shift colors, and blur and age photos.
Shape Editing: CirclePad lets users modify shapes and lines to fit their design, or copy cut outs onto photographs.
Animation: Users can easily add exciting animation to their designs, or load pre-designed animated gifs. CirclePad even lets users create their own animated gifs by loading multiple photos.
Advanced Web Features: The use of templates enable users to keep a consistent design across a project, especially for those creating multi-page web sites.
Two Levels of Service
1. CirclePad offers individuals two levels of service: Basic Accounts and Subscription Accounts. Basic accounts include all of the product's features, but also include advertisements on the site.
2. Subscription Accounts are available for a monthly fee of $7.99 a month and will include a domain name, 10 email addresses, no advertisements and more server space. The Subscription Account is well-suited for anyone wanting to create a professional web site, or professional graphics.
For further information contact:
Michael Isner
President and CEO
CirclePad, Los Angeles
310 985 5987
Tom Reid
Public Relations
CirclePad, Toronto
905 599 3733
# # #