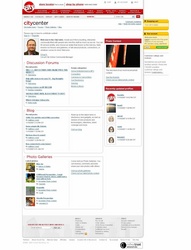 Circuit City wants to empower consumers with innovative approaches to shopping
AUSTIN, Texas (PRWEB) November 20, 2007
"Circuit City wants to empower consumers with innovative approaches to shopping," said Mark Oldani, vice president and general manager of Circuit City Direct. "We were the first multichannel retailer to incorporate customer-centric features such as ratings, reviews and discussion forums, and our new CityCenter builds on this tradition, adding blogs, personal profiles and photo galleries to Circuit City's growing online community."
Using collaborative technologies from Pluck, CityCenter enables customers to interact directly with each other and Circuit City associates when considering complex purchases, such as flat panel televisions and computers. It has already attracted thousands of customers interested in everything from home theater and music to computers and photography. Circuit City uses the site to monitor customer demand, uncover common product support issues, and engage with customers through photo contests and special promotions.
"CityCenter brings social networking, online conversations, and multichannel transaction capabilities together to enable true social shopping," said Dave Panos, CEO of Pluck Corp. "It's the future of online commerce, and Circuit City is bringing it to customers just in time for the holidays."
To find out more on what people are saying about the best in electronics, visit Circuit City's CityCenter at http://www.circuitcity.com/citycenter.
About Circuit City Stores, Inc.
Circuit City Stores, Inc. (NYSE:CC) is a leading specialty retailer of consumer electronics and related services. The domestic segment operates through 667 Superstores and 13 other locations in 158 U.S. markets. The international segment operates through approximately 800 retail stores and dealer outlets in Canada. Circuit City also operates Web sites at http://www.circuitcity.com, http://www.thesource.ca and http://www.firedog.com.
About Pluck Corporation
Pluck Corporation social media solutions empower leading media companies, brand marketers and retailers to integrate open content, community and social networking into their web properties driving audience traffic and revenue. Clients include CBC, Circuit City, Cox, FOX News, Gannett, Scotts, and The Washington Post. Awards include a Red Herring 100 and AlwaysOn Media 100. The privately held company is based in Austin, Texas with funding from Austin Ventures, Mayfield Fund and Reuters. More information on Pluck offerings can be found at http://www.pluck.com.
Pluck, BlogBurst and SiteLife are trademarks of Pluck Corp. All other company and product names mentioned are used only for identification and may be trademarks or registered trademarks of their respective companies.