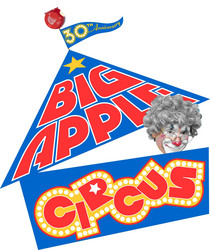 NEW YORK (PRWEB) August 23, 2007
Artistic and Creative Directors Paul Binder and Michael Christensen have gathered an amazing cast of extraordinary performers, who bring thrills and delight from ten countries around the globe. Come enjoy Kris Kremo, lauded as the finest solo juggler alive, Fumagalli, international star and clown prince of the world, Cong Tian and his incredible balancing feats on a slim slack-wire, the astounding Kovgar Troupe, rocketing to the top of the tent from their teeterboards, and of course our beloved Grandma the Clown (Barry Lubin). There'll be hula-hoops on swinging hips and flashy juggling wonders, capering dogs and high-prancing horses, soaring aerial acrobats, hilarious hi-jinks, amazing feats of strength and agility -- and no one sits more than 50 feet from ringside, so even if you're really small you won't miss a thing! Directed by renowned Canadian director Michel Barette, with a live, original musical score by award-winning Broadway composer Michael Valenti, the Big Apple Circus is back in town!
Performances of Celebrate! begin Friday, October 19 and run through Sunday, January 13, 2008, under the Big Top at Lincoln Center, the second stop on the Big Apple Circus's 11-month, 10-city tour. Tickets for Celebrate! range in price from $28 to $84 (Premium Seating $125) and are available through Centercharge and Ticketmaster. The Circus Box Office, located in front of the Big Top at Damrosch Park in Lincoln Center (Broadway at 63rd Street) opens Thursday, October 11; hours are Sun - Mon, 10am - 6pm, and Tues - Sat, 10am - 8pm. The Big Top is heated in cold weather for all-season comfort.
For group sales, inquiries about wheelchair-accessible seating, special New Year's Eve performance or for additional information call the Ticket Info Line at (800) 922-3772.
The Big Apple Circus is a not-for-profit performing arts and outreach institution committed to invigorating the communities we serve with the joy and wonder of classical circus. Tax-deductible contributions made by corporations, foundations and individuals enable the Big Apple Circus to bring its special magic to diverse audiences through its outreach programs --Big Apple Circus Clown Care SM, Beyond the Ring (R), Circus For All! (R) and Circus of the Senses (R) -- as well as its critically acclaimed performances.
For Membership, Private Performances and more information visit http://www.bigapplecircus.org