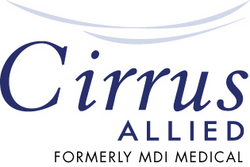 There are amazing Home Health job opportunities for Travel Medical Professionals right now
Atlanta, GA (PRWEB) October 27, 2009
There has been a marked increase in the number of Home Health Travel Therapy job opportunities according to Greg Allen, president of Healthcare Staffing FirmCirrus Allied.
"With an increasing number of the Baby Boomer generation reaching the Medicare eligible age of 65, health care providers are starting to reevaluate capacity and are increasingly turning to home health settings as viable options," said Allen. "As a result, we have seen a significant spike in Home Health opportunities for Travel Therapy professionals around the country."
According to the US Census Bureau, there were 36.3 million people in the United States who were Medicare eligible in 2004 and that this number will double by 2050. Home health care spending grew 9.1 percent in 2008 to $64.4 billion, and is projected to grow an average of 7.9 percent from 2013 to 2018. Cirrus Allied, one of the nation's leading Travel Therapy staffing agencies, has seen a 200 percent increase in Home Health job openings over the past year alone.
"Home Healthcare is increasingly preferred by both the patient and the healthcare provider," said Allen. "Patients have the convenience of receiving care in the comfort of their own homes, while healthcare providers find that it's simply more economical."
For Travel Medical Professionals, Home Healthcare jobs provide a host of benefits that can't be found with a typical facility placement. In a Home Health setting, therapists enjoy flexible schedules, a variety of in-home settings and a workday based on visits rather than hours.
"There are amazing Home Health job opportunities for Travel Medical Professionals right now," said Allen. "The jobs we have available at Cirrus offer industry-leading pay, openings in prime locations, PTO, and medical insurance."
About Cirrus Allied:
Cirrus Allied is one of the nation's leading rehabilitation therapy staffing firms. With offices in Atlanta, Charlotte and Houston, our firm specializes in placing experienced rehabilitation therapists and assistants into travel, contract and permanent employment assignments that help them to further advance their careers. For our healthcare facility clients, our focus is providing a one-stop solution to their staffing and HR needs.
Cirrus Allied is a member of the Cirrus Healthcare Group, an international healthcare group specializing in providing US healthcare companies with customized domestic and international staffing and HR solutions. The Group consists of Cirrus Medical Staffing, Cirrus Allied and Medtivia. The companies are all A. Soriano Corporation (ANSCOR) companies.
###