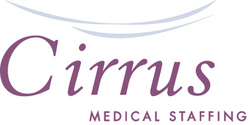 I look forward to assisting healthcare organizations to improve their staffing efficiencies, staff productivity and retention
Charlotte, NC (PRWEB) February 9, 2010
Cirrus Medical Staffing President Greg Allen announced today that the Healthcare Staffing Firm has officially named Mary-Ellen Betterton to oversee its Customized Managed Service Programs and Recruitment Process Outsourcing Solutions for Healthcare Providers.
"Mary-Ellen is the perfect person to oversee our Customized Managed Service Programs and Recruitment Process Outsourcing Solutions," said Allen "She is a registered nurse and a 20 plus year veteran of the healthcare industry with a wealth of experience in full scope recruitment planning, delivery and retention programs. Mary-Ellen intimately understands a healthcare organization's critical staffing, process, and retention needs."
"I am thrilled to be working with Cirrus Medical Staffing," said Betterton. "Their Customized Managed Service and Recruitment Process Outsourcing programs are the best in the business. They are geared toward quality and offer exceptional delivery of organizational staffing outcomes. I look forward to assisting healthcare organizations to improve their staffing efficiencies, staff productivity and retention,"
Betterton will oversee Cirrus' managed recruitment and retention staffing solutions, which are scalable to meet the unique needs of individual healthcare organizations. With an innovative program design and state-of- the-art technology, Cirrus' managed service team focuses on enhancing a healthcare organization's ability to identify, attract and retain the best talent available. Cirrus' Recruitment Process Outsourcing, Vendor Management Services, Master Vendor Programs and Preferred Provider Programs streamline work-flow processes, maximize available resources and seamlessly integrate into any existing operation.
"Most HR departments in healthcare organizations are stretched, finding themselves bogged down with nursing pool development, credentialing, vendor selection and vendor management," said Betterton. "By outsourcing these processes, an organization can operate more efficiently and allow its HR department to perform the myriad of other duties critical to an organization's function."
Cirrus Medical Staffing utilizes Clearview TSS, best-in-class staffing and VMS technology designed specifically for healthcare staffing. The nationally recognized web based VMS system, manages job requisitions, offers a database that houses well over 100,000 candidates, smoothly integrates between front and back office systems, controls workers compensation and employment claims costs, and can document employee performance, scheduling and credentialing.
For further details regarding Cirrus Medical Staffing's Customized Managed Staffing and Recruitment Process Outsourcing programs, please call 800-299-8132 or strategic@cirrusmedicalstaffing.com.
About Cirrus Medical Staffing:
Cirrus Medical Staffing is an award winning Healthcare Staffing Firm providing customized staffing programs and strategic human resource solutions for healthcare organizations across the country. With offices in Charlotte, Atlanta and Houston, Cirrus specializes in managing the identification, recruitment and retention of the highest quality Nurses, Nurse Practitioners, Physician Assistants and Allied Health professionals into travel, contract and permanent employment for our clients. Cirrus is ranked as one of the top 10 Travel Nurse Companies in the US and has been a Certified Healthcare Staffing Firm through The Joint Commission since 2005. Cirrus' focus is to provide a one-stop solution to our clients staffing and HR needs.
Cirrus Allied is also a member of the Cirrus Healthcare Group, an international healthcare group specializing in providing US healthcare companies with customized domestic and international staffing and HR solutions. The Group consists of Cirrus Medical Staffing, Cirrus Allied and Cirrus Global. The companies are all A. Soriano Corporation (ANSCOR) companies.
###