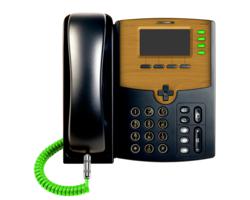 "Besides being a very unique piece it also incorporates, and can be used as an example of, a lot of the values that VoIP Supply stands for." - Ben Sayers, VoIP Suppy CEO on Cisco SPA504G Salvage Edition
(PRWEB) April 01, 2013
VoIP Supply is announcing the release of the Cisco SPA504G Salvage Edition as part of the VoIP Supply Refresh line of reconditioned VoIP equipment.
The VoIP Supply Refresh line was started in 2009 as a low cost alternative to new VoIP hardware. Each Refresh VoIP phone goes through a 10 step reconditioning process where it is cleaned, examined, upgraded, reset to factory defaults, repackaged with standard accessories including a CD with datasheets and manuals, and given a Certificate of Freshness.
As a Certified B Corporation (B Corp), VoIP Supply seeks out new sustainable opportunities. The Cisco SPA504G Salvage Edition saves phones and other materials from the landfill.
Nate Martin, VoIP Supply Refresh Specialist, worked for two months customizing a Dead on Arrival (DOA) Cisco VoIP phone with a variety of recycled parts. The final SPA504G Salvage Edition is a marriage of style and adaptive reuse:

Custom wood paneling, from a deconstructed house, takes inspiration from an Eames Lounge Chair and is engraved with the Cisco logo and SPA504G model name.
A coat of durable, glossy black paint is a further take on the Eames theme and gives the phone a fresh look.
Broken and worn dial pad keys were replaced with vintage typewriter keys salvaged from a typewriter found at Buffalo ReUse.
Surplus coiled guitar cable was used to replace the standard phone cord which continues the 1960's theme and adds new functionality. The new coiled guitar cable now allows the handset cord to swivel on both ends to help reduce knots in the cable.
The SPA504G's 4-direction navigation button was replaced with directional pads (D-pad) from broken Nintendo NES controllers.
"I am really impressed with what he has done with creating this phone," said Ben Sayers, CEO of VoIP Supply. "Besides being a very unique piece it also incorporates, and can be used as an example of, a lot of the values that VoIP Supply stands for."
VoIP Supply has commissioned a special run of 25 Cisco SPA504G (VSRF) Salvage Edition phones to celebrate the company's B Corp status and to help inspire other companies to find creative sustainable solutions.
The SPA504G Salvage Edition comes with VoIP Supply's six month Plus 6 Warranty that can be extended to 1-year.
To learn more about the Cisco SPA504G Salvage Edition please visit, http://www.voipsupply.com/Cisco-SPA504G-VSRF-Salvage-Edition or, call 800-398-8647.
About VoIP Supply
We are a place of uncovering, cultivating and developing leaders. A world class place to work with big goals, a clear vision, defined purpose and a dedicated team of passionate business professionals. We love what we do and do it better than any of our competition.
Since 2002, VoIP Supply has been the leading supplier of VoIP equipment and complete VoIP solutions in North America. We are known in the industry as responsive and knowledgeable VoIP product experts.
With everything you need for VoIP, VoIP Supply has grown rapidly throughout the years. VoIP Supply is a three-time Inc. 500/5000 honoree, listed by Business First as one of WNY's Most Admired Companies, as well as one of Western New York's Best Places to Work for many consecutive years, including 2012. VoIP Supply is also the first and only Certified B Corporation in Western New York.